Pain and death as police battle poll protesters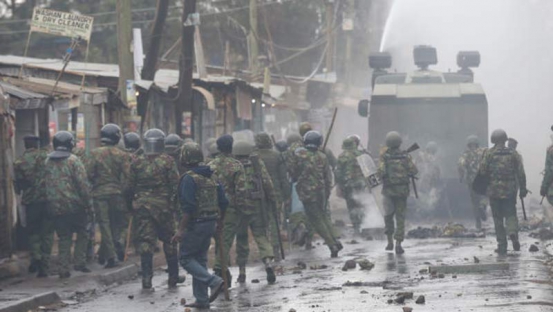 A stand-off emerged after the government and civil society gave conflicting accounts of disturbing events that developed after presidential results were released by the Independent Boundaries and Electoral Commission (IEBC) on Friday night.
The Kenya National Human Rights Commission (KNCHR) reported that 24 people were shot dead by the police in a night of terror following the announcement of the results as security forces battled supporters allied to the National Super Alliance (NASA).
KNCHR chair Kagwira Mbogori condemned the destruction of property by both the protesters and police, but called on Inspector General Joseph Boinnet to rein in his officers.
"The rule of law has not been suspended just because it is an electoral period... We regret and strongly condemn the action by our police officers," she said.
"We are gravely concerned by the number of gross violations on human rights. You need to treat protesters with dignity."
But Interior Cabinet Secretary Fred Matiang'i said no protesters had been killed or shot by police in Nairobi, Kisumu or elsewhere. Spot checks in Nairobi, however, revealed that the confrontation lasted the whole of Friday night and spilled over.
The violence was condemned by religious leaders and NASA, who appealed for calm even as they criticised the police for using excessive force. "For now, we appeal to our supporters and Kenyans at large to stay out of harm's way," said the coalition in a statement read by Machakos Senator Johnstone Muthama.
Seventeen of those who died, according to a tally by the KNCHR, were killed in Kibera, Dandora, Huruma, Mathare and Lucky Summer slums in Nairobi. The rest were killed in Kisumu, Migori and Bondo.
'ERRATIC INCIDENTS'
Dozens more are nursing gunshot wounds in various hospitals, but the government downplayed these events, terming them "erratic incidents of lawlessness."
Matiang'i responded earlier in the day saying: "By and large, life has returned to normal as I have indicated. I urge everyone to go about their normal chores assured of safety and security."
He said reports by police indicated that criminal elements had attempted to take advantage of the situation to threaten public safety and security.
In the informal settlements, angry residents engaged the police in running battles for the entire day as businesses remained closed for fear of looting. Sounds of gunshots, which started on Friday, had not stopped by evening as police battled protesters who set up roadblocks and set fire to kiosks.
Tension in the slums had been building up since Wednesday when the opposition coalition first raised an alarm about its discomfort with the vote tallying process. Things reached boiling point at about 10pm on Friday when the presidential results began to be announced before all hell broke loose immediately President Uhuru Kenyatta was declared the winner.
In Kibera, gunshots lasted the whole of Friday night, only taking a break at dawn before resuming shortly after 9am. In Mathare, one half of the slum celebrated Uhuru's win as violence broke out in the other, with a river acting as a barrier. Police had to restrain the two sides.
There were concerns about why the police were using live bullets on unarmed protesters, with NASA terming the graphic events as 'genocide'.
"What is happening in Kibera is a military operation," claimed Siaya Senator James Orengo.
Eldoret Catholic Diocese Bishop Cornelius Korir said it was sad that people were losing their lives because of an election.
"Something should be done urgently and comprehensively. The police are deployed to maintain order, not to shoot and kill people. But the real issues that have led to this situation should be addressed first," he said.
The cleric called on the Opposition to move to court if they are dissatisfied with the results or concede defeat. He also warned Jubilee supporters against engaging in activities that may incite those aggrieved by the results.
LIVE BULLETS
"Peace building should continue in this country on high intensity because there is a lot of division and this needs to be resolved," he said.
But in Nairobi, NASA declined to concede and insisted that going to court was not an option for the coalition. They did not elaborate their next course of action. Instead, they accused the IEBC of putting the country in its current situation.
"The commission has let the country down. As we said, the Executive applied pressure on the IEBC to release those results," said Orengo. "Even if we were to go to court, the first question we would be asked is whether we exhausted all the other avenues before filing a case."
At the City Mortuary, the Sunday Standard counted at least 14 recorded incidents of bodies that had been brought in on Friday night by the police from Mathare, Ngomongo and Ruaraka. Records showed they had gunshot wounds, but Kilimani OCPD Joseph Muthee, under whose jurisdiction the mortuary is located, denied that they were killed by police.
"I don't know if any people have died yet because as far as I know no one has been killed. You have never dealt with people who are rioting. Whether we are using live bullets or not is besides the point. What matters is we are saving people's property and lives," he said.
In Kibera, protesters vandalised an Equity Bank branch but did not gain access to the building. A police post in Silanga and a clinic were razed to the ground. In Dandora, another bank was also pelted with stones.
At about 3pm, General Service Unit (GSU) officers ambushed a group of opposition leaders attempting to make entry into Kibera to address their supporters, leading to a stampede as their convoy of SUVs sped to safety under a hail of gunfire and teargas.
The week-long tensions in the slums, which have been characterised by barricading of roads and burning of tyres, have blocked food supplies and essential services, leading to skyrocketing of prices. In Kawangware, one tomato was retailing at Sh20 and Sh35 in Kibera.
There is no water and the little available cannot reach the slums due to insecurity. Most kiosks have remained closed for the better part of the week. Residents pleaded to leaders on opposing sides of the political divide to speak in one voice about the insecurity and tensions.
"We want our leaders to come out and talk to each other. If the people see they have no issues with each other, things will calm down," said Kennedy Opote, a resident of Ayani.
Opinion: Mr President, help unite us, fight negative ethnicity
Congratulations President-elect Uhuru Kenyatta on your declaration by the IEBC as winner of the 2017 polls. This is a fresh opportunity in your hands to make a final impression on the lives of Kenyans. Show us that you are the true son of a freedom fighter.