Concern over high number of spoilt votes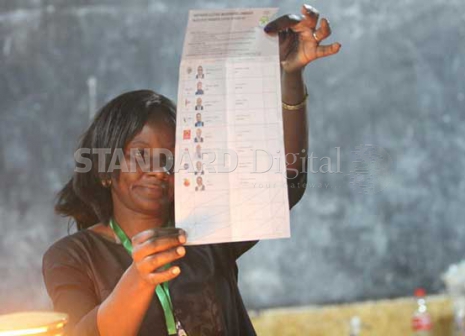 The number of spoilt and disputed votes in this year's polls could be highest ever in Kenya's election history.
In fact, if 'Rejected Ballot' had been a candidate, s/he would have come third based on the provisional results that put President Uhuru Kenyatta ahead of NASA's Raila Odinga.
By the time of going to press yesterday, a record 393,865 votes were listed by the Independent Electoral and Boundaries Commission (IEBC) as rejected votes. There were 108,975 spoilt votes in the 2013 elections.
The number of rejected votes so far is higher than what the rest of six presidential candidates have collected.
By Wednesday, with 85 per cent of polling stations submitting their results, President Kenyatta had 8,000,436 while Raila had 6,604,273 votes.
Even though on Tuesday, IEBC Chairman Wafula Chebukati validated ballot papers stamped "REJECTED" at the back, saying rejected ballot papers can only be labelled as such when stamped on the top page, the high number of spoilt votes marked as rejected has hit an all time high.
The Election Observation Group (ELOG) pointed out that there were a number of discrepancies on the part of IEBC that could have led to the high number of spoilt votes.
For instance, there were 17,523 voters whose details could not be found in the data on the passports provided by the Directorate of Immigration, casting doubt on how many were included in the voters register.
In circumstances where the passport details in the register did not tally with the records at the Immigration Department, it meant the verification of records was not fully resolved.
"There is also a high number of non-committed voters who for one reason or another turned up at the wrong polling station to cast their vote after failing to verify their voter information on time," said Regina Opondo, chairperson, ELOG steering committee.
Civic education
Majority of them, she observed, either did not carry proper voting documents or just went ahead to vote for candidates they had no idea about.
She attributed the high number of rejected votes to a combination of factors including lack of civic education which was hampered by the President's decision to stifle funding from donors.
"We have observed that this could be one of the effects of lack of civic education and voter education in days preceding the elections," said Opondo.
Opondo, who is also the Executive Secretary of CRECO, a consortium of 23 civil society organisations in Kenya, and who witnessed voting on Tuesday said there were between one to 25 people who were not allowed to vote due to a number of factors, including lack of valid voting documents.
"It could be also that some of the voters were not committed to vote. For if they were, they could have taken time to verify by casting the votes in the proper box."
Most spoilt votes were either marked twice, some with spilled ink, unstamped by IEBC stamp and in some cases voters placed a rightful vote in either MCA box when it was meant either for Senate.
"A major reason why there were many spoilt votes is lack of assistance to voters by IEBC and party agents, majority of whom were either illiterate or confused by the high number of elective positions," said Counsel Alexander Jaoko.
He said some declined to be assisted and went on to place a tick on their preferred candidate while at the same time marking a cross on the other candidates on the same ballot.
Single box
"I witnessed a young man insist he wanted to vote his preferred candidate for MCA alongside Raila. He simply placed the two ballot papers in a single box," said Jaoko of Nchoe, Jaoko and Company Advocates.
Another intoxicated voter in Migori ticked Raila on the ballot paper but went on to cross the other seven presidential candidates. "The youth was so intoxicated that an explanation from the party agents fell on deaf ears."
The court holds that rejected votes do not count. "The repealed Constitution said that the only votes that counted were the 'valid votes cast'. The new Constitution says that it is 'votes cast'."