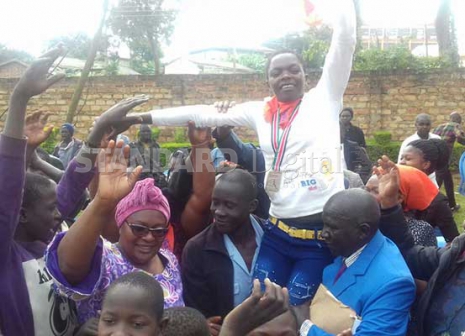 Kisii County ODM Woman Representative Candidate Ms Janet Ongera says she will ensure Moraa stays in school as she gears towards her final year in Secondary.
Moraa became the first Kenyan girl in this year's IAAF World under 18 Championships to win silver at Kasarani stadium mid this month.
Moraa, an orphan and a form three student at Mogonga Mixed Secondary School in Kisii, clocked a personal best of 53.31 for silver.
According to Ms Ongera, among her top priorities once elected is to have a talent academy to help nurture young faculties in the region.
"This is part of my role as a Woman Representative. We need to move in speed and help tap some of the talents that are going to waste because of poor policies. This region ought to regain its lost glory in athletics and football," she said.
She added: "Early marriages and other societal challenges are some of the issues we need to curb if we indeed we have good plans to help our youths. I will pay Moraa's fourth form fees. She should grow both academically and talent wise."
Moraa has been getting financial help from her school Principal Mr Aron Onchonga who has been paying all her school fees since she joined the school in form one.
"I am grateful to the school administration and the Principal for the moral and financial support. I want to remain a role model to the young girls who shy away from sporting activities. It is my desire that I continue to train and participate in various activities even after completing school," said Moraa.
The Principal called on well-wishers to keep supporting young talents saying most of them cannot raise fees to continue with schooling.
"It is a major challenge to have such talent stay idle in the village and expect better results. The society is full of vices and we should begin guarding such young talents," said Mr Onchonga.
The school produced three other students who participated in the championships. Elijah Matayo (100m, 200m), David Kisotu (400m hurdles) and Joseph Nyakundi (shot put).?