NASA alleges military plot to rig elections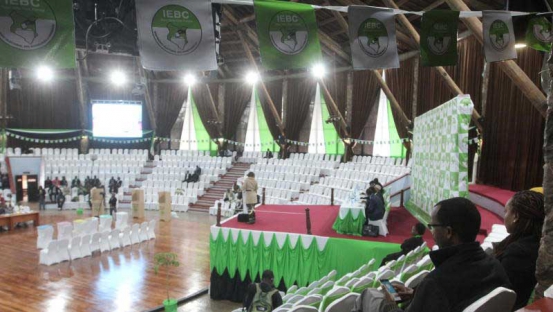 National Super Alliance (NASA) presidential candidate Raila Odinga made shocking claims of planned vote rigging on Friday as the electoral commission braved fears of a compromised poll.
Falling short of announcing a boycott on the poll, the opposition leader tabled details of alleged rigging plans involving security forces to aid Jubilee hold on power.
But President Uhuru Kenyatta and his Deputy President William Ruto dismissed the claims saying Raila has sensed defeat and is now discrediting the polls at every opportunity.
The NASA presidential candidate's claims at a press conference in Nairobi, on Friday, came after similar allegations, also involving security forces, and which were also dismissed by the government.
"We are now being forced to go into an election whose outcome is predetermined. We are not stupid, we will not," Raila said, adding:"We want a conformation that we are going to hold elections in this country. There is no point of campaigning when somebody wants to walk through the back door, Kenyans will not allow it."
Immediately after Raila's off-the-cuff remarks were picked up by sections of the Press, his communications advisor Salim Lone denied that Raila had vowed to boycott the election.
"This is downright false. NASA issued no such threat. Media is welcome to speculate on that score, but it cannot ascribe to NASA what was never said or hinted," Lone said.
As Lone struggled to correct the impressions created by his boss, Kenyatta and Ruto seized the opportunity to discredit the opposition leader.
"We have no experience of planning coups. Kenyans know the master of coups, those who have used the army before to try to get power. We respect our military and its mandate is well known," said President Kenyatta.
Kenyatta who is also the Commander-in-Chief of the Armed Forces said he will not allow the opposition to tarnish the military at the expense of politics.
Safeguard the systems
"Our security officers are the ones who are protecting our borders and even giving you security and then someone wants to drag them into his dirty politics. I say once again Raila: shame on you," he added.
NASA presidential running mate Kalonzo Musyoka claimed a military operation to deliver the presidency to Kenyatta was in the works. He said the plan entailed cutting off water and power supply and isolating some areas.
"Also included will be 226 new soldiers, being trained to be deployed in this mission. The soldiers don't have networks in the military. Because they are new, they will readily take any orders, and at the same time cannot be identified, nor can they communicate with other soldiers who might not be privy to the plot and would oppose it," Kalonzo claimed.
On Friday, Kenya Defence Force (KDF) spokesman Joseph Owuoth confirmed the authenticity of documents presented by NASA on an operation dubbed "Dumisha utulive"
However, he said they were quoted out of context and that military was apolitical and professional at large.
As Jubilee and NASA traded barbs over the claims, IEBC chair Wafula Chebukati was battling fears of a bungled poll arising from the rigging claims, insecurity concerns and warped electoral process.
He also denied Raila's claims on military ploy to rig the polls saying the commission had put "strict measures" in place to ward off rigging. The IEBC chair said IEBC had no plans of deploying KDF anywhere in the electoral process.
"We have listened, collated and identified all concerns of rigging as well as possible risks that the commission may face at the polls. Security is equally of serious concern."
Colley Kivuitu from Evangelical Society of Kenya challenged Chebukati to state the criteria used to identify the violence hot-spots, even as institutional experts, the diplomatic community and NGOs demanded assurance that the elections will be tamper proof.
Chebukati said IEBC is working with security agencies to ensure a peaceful election. He said in extreme cases, the commission will resort to mobile polling stations to ensure all eligible voters cast the ballot.
"We have invested in the best security systems and involved top notch security professionals to curb cyber-attack to our server, safeguard the systems from hacking and provide a parallel back up system," he said.
The IEBC chair also noted that they will guard against ballots stuffing through strict tally and periodic reports on turnout by KIEMs technology.
Implement lessons
Felix Odhiambo, an electoral expert pressed the commission to guarantee Kenyans a credible poll and to implement lessons picked from their predecessor.
On the curfew in Lamu, Garissa and Tana River counties, Chebukati said the Interior Principal Secretary Karanja Kibicho is expected to clarify the matter.
"We discussed the matter with political parties' representatives and the PS will give details. It's not the entire counties, like in Lamu it is only in Boni forest which is under operation after regular attack from insurgents," he explained.
Law Society of Kenya President Issack Okello also took Chebukati to task over the blanket ban on use of cellphones to take pictures when voting.
"The secrecy of the vote is paramount, however I believe Kenyans would not want to behave like tourists, taking selfies at the ballot booth. It's a tool for accountability."
Chebukati further assured that: "I made a commitment to Kenyans when i took the oath of office and am equal to the task. There is no room for rigging. The staff under my leadership will work tirelessly to deliver credible polls."