Health crisis: Kenyatta National Hospital's chocked maternity wards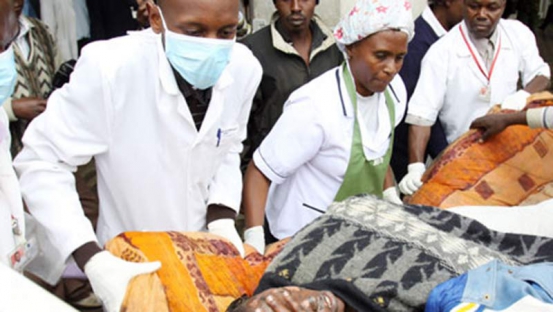 On Tuesday evening, an expectant first time mother went into labour and was rushed to Kenyatta National Hospital, Nairobi.
She was hurriedly taken to a tiny labour room where she found five other women waiting.
After long agonising hours, she finally delivered a healthy baby girl on Wednesday morning.
But her ordeal was far from over. Mother and baby were wheeled into the maternity ward. Here, they had to share a bed with another mother. The ward, designed to hold a maximum of 50 patients was crammed with more than 100 mothers.
The hospital register shows that, 102 women had been admitted to the wards.
The overcrowding is worsened by the ongoing nurses' strike, which has seen more mothers flocking to the hospital after being turned away from other facilities by chanting medics.
KNH, a referral facility, is the only hospital whose nurses are not taking part in the countrywide strike. Patients here admit that they did not even bother to seek help elsewhere.
But this is nothing to write home about.
Nurses here are clearly overwhelmed. The beds are limited and there is little privacy for some mothers who need sensitive gynaecological tests.
BABY'S SAFETY
Besides, two mothers sharing a bed with their newsborns tucked between them is not exactly safe for the little ones.
The Standard team visited one of the new mothers. The visit had to be discreet since the facility frowns on journalists visiting the wards to conduct interviews.
The new mother spoke on condition of anonymity, saying the nurses would punish her for speaking to a journalist.
The crammed beds, crying babies and hushed attempts of new mothers to keep them quiet is nothing, she tells me.
Things get worse at night.
"You think this is bad? At night that corridor is filled with mattresses and women who have just given birth share the mattresses thrown on the floor," she said.
But it is not only the shared mattresses that pose the biggest risk to the new mothers. Not even the floor.
It is the ward toilets. She only visits them when she cannot hold it anymore. The few cubicles have to be shared by twice the number of users they were built for.
"It is just so dirty, especially for a woman who has given birth, and we all have to use that small space," she said.
During visiting hours, which start at half past noon, the congestion in the wards triples as relatives stream. Then matters get complicated for the new mothers. The last shred of privacy is torn.
According to the woman, doctors get so overwhelmed that they, in some cases, examine the women with visiting relatives watching.
No privacy
"There is absolutely no privacy and when the doctors do their rounds you have no space to even talk to them," she says.
Last week, the hospital admitted that the ongoing nurses' strike had strained its facilities, and that it was doing the best it could under difficult circumstances.
The hospital administration concedes that the current situation might compromise the quality of care patients receive, and that although nurses here are not on strike, they are overworked.
According to KNH Chief Executive Officer Lily Koros, the congestion is affecting both patients and staff. "Congestion is a reality and staff have to work long hours to handle the big numbers hence the burn out," she said.
"We have some stand-in staff but they are still not enough," she said.
10 Moments when women want sex
If a woman loves making use of her creativity often, like for instance in cooking, kneading, painting, musically, in art or writing, then during these occasions