How Knut boss got nomination slot for House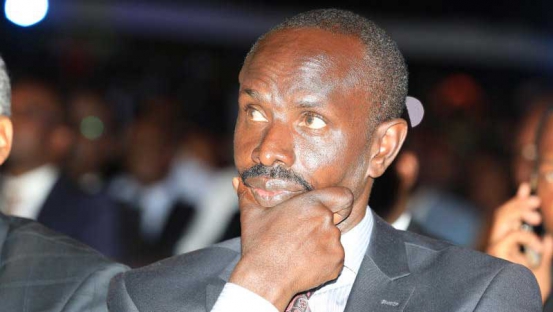 Sometime this year, an umbrella union bringing together civil servants and teachers sent a seven-page document to political parties demanding answers to a number of questions relating to workers.
The questionnaire by the Trade Union Congress of Kenya (TUC-K) sought responses from parties on a myriad of issues relating to workers. TUC-K is an umbrella union that boasts a membership of 500,000 workers. It brings together members of Union of Kenya Civil Servants (UKCS), teachers unions, Kenya's University Academic Staff Union (Uasu), Kenya University Staff Union (Kusu) and dockworkers.
Key among the questions raised by the labour centre was possible amendments to the Labour Relations Act that each political party would effect towards better protection of workers' rights. The union also sought to know what parties stood for on contract employment, outsourcing, trainings and importation of casual labour.
TUC-K also sought to interrogate political parties' stand on the existing Collective Bargaining Agreement (CBA) frameworks, wage gap reduction, corruption eradication and whether education should be devolved among other issues. Mr Wilson Sossion, who is the General Secretary of the umbrella union, signed a letter forwarding the questionnaire.
In his letter, Sossion, also the Kenya National Union of Teachers (Knut) Secretary General, said the labour centre has a keen interest on what the various political players have for workers. "In respect, we are in the process of monitoring keenly the various party manifestos with a view of taking an informed stand in the coming election," Sossion wrote.
Taxation issues
The letter lists five key issues: Collaboration on CBAs, wage gap policy, statutory deductions, and the place of special interest groups, taxation issues and the parties' position on the changing workplace.
On wage gap, the union sought to know each party's position on how they intend to develop a wage gap strategy that will address pay disparities. Under statutory deductions, the union said Kenyan workers remit 52 per cent of gross pay against the global rate of 24 per cent.
"What is your party and your future government strategy on moving towards the global average?" the union posed.
On taxation, the labour centre wanted the point at which workers start paying income tax raised to Sh30,000. The union also called for additional tax of about 20 per cent on the wealthy and privileged in the society. What, however, may have earned Sossion the nomination slot is the question the labour centre posed to all the political parties: "What is your position on nomination to Parliament (Senate, National Assembly and County Assemblies) to represent workers interest in legislation process?"
Sossion Saturday said only ODM responded.
"As a union we engage with everyone and we listen more to those who listen to us," said Sossion. The Sunday Standard has seen a letter wrote to ODM for consideration. "We herein request for consideration of the following nominees to represent workers in ODM after the August 2017 elections," reads a letter by Tom Odege, TUC-K chairman. Odege, who is also the Secretary General of Union of Kenya Civil Servants (UKCS) forwarded names of Kusu Secretary General Charles Mukhwaya and Sossion.
"The party picked my name. If I am nominated I will take up the position. I have not been communicated to, but I already submitted my bio data to the party," Sossion said. Although Knut national office has remained quiet on the matter, the development has elicited mixed reactions.
Democratic right
In the North Rift, union officials said it may not necessarily sway voting patterns in the region. "While others say it is his democratic right, others say he should have remained neutral. But there is no problem because so many teachers are supporting various politicians including independents," said Josephat Serem, Knut Executive Secretary, Nandi North.
Mr Serem, who is also the union's National Executive Council member for Rift Valley, said even his colleague in the council Mr Stanley Kiptis, joined Jubilee Party which saw him nominated to run for Baringo governor seat.
Jubilee under President Uhuru Kenyatta and NASA under Raila Odinga will compete for a share of teachers' support to consolidate their strength in the run up to the August 8 polls.
Boniface Tenai, the Knut first national trustee and Executive Secretary Nandi East and Tinderet, said every teacher has a constitutional right to participate in politics.
Speaking separately Tenai said Sossion is exercising his democratic right adding the move does not necessarily represent the stand of the union.
In an interview with Sunday Standard, Sossion said it is an open secret that his name has been floated for nomination to parliament by ODM.
Asked whether ODM responded because he had been holding brief for the opposition, Sossion said: "It is common knowledge that I have supported Jubilee to deliver and it is also common knowledge that I supported Jubilee in 2013".
He added: "Look at the process, we wrote to all parties. We only got feedback from one party. And therefore those who make such comments are mischievous."
"I want to tell Kenyans and all workers that political parties are legal entities and they are instruments of citizens to advance their views in terms of governance and development agenda," he said.
He said political parties are funded by taxpayer's money and should not be viewed as bad. Sossion also denied taking part in drafting the NASA manifesto that speaks to a narrative he has been fronting for many years. He has been calling for the recruitment of 20,000 teachers and redirecting funds meant for the schools laptop project. NASA has pledged to do exactly that.