Expert: Mutula didn't take viagra before death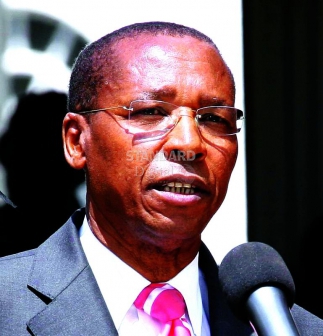 An autopsy report has ruled out the possibility that former Makueni Senator Mutula Kilonzo might have taken a sex-enhancing drug before his death.
A Nakuru-based medical doctor, testifying in a public inquest into the legislator's death, told a Machakos court that there was no evidence of physical external injury or signs of a strangle in and outside the house where his body was found.
"Honourable Mutula Kilonzo died of massive haemorrhage (bleeding) into the chest and cranial cavity, significantly elevated blood pressure due to several factors including but not limited to excess ingestion of pseudoephedrine with caffeine," Dr S.W. Mwangi told Senior Resident Magistrate Kipkirui Kibellion.
Pseudoephedrine is a drug usually used as a decongestant to shrink the blood vessels in the nasal passages.
Its side effects include fast or uneven heartbeat, bleeding, fever, and dangerously high blood pressure.
Dr Mwangi said an examination of the senator's body at his Maanzoni ranch on the day he was found dead did not suggest he might have taken viagra.
"After a thorough overview of the items at home, no tablets were identified with features suggestive of viagra, other types of sildenafil or cialis equivalents," he said in a report.
The postmortem, done on April 30, 2013, at Lee Funeral Home in Nairobi, further revealed that Mutula bled excessively as a result of high blood pressure.
The senator was found dead at his home in Kwa Kyelu ranch in Machakos County on April 27, 2013.
The report says that Mutula's son, Mutula Kilonzo Jnr (now Makueni senator) and an elderly man who was a worker at the home identified as Mulei Mulwa said they had not heard any complaint from the senator the night before.
"The only suspicious finding was a small plastic container with small white pellets whose constituents could not be immediately determined," the report says.