Girls now better than boys in mathematics, survey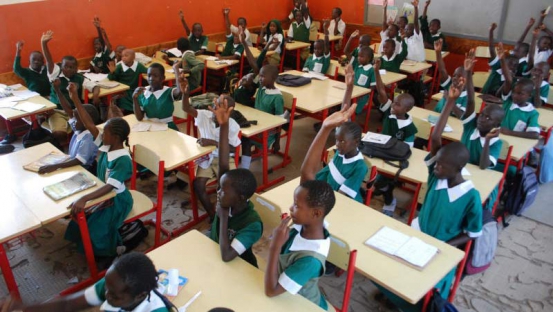 Standard Two pupils in Mombasa County are the brightest overall performers in mathematics countrywide, according to a new study that also shows girls are better than boys at the compulsory subject.
The yet-to-be-released Ministry of Education survey dated February 2017 shows that 99.2 per cent of the Standard Two pupils from Mombasa County scored 50 or more marks out of 100 in the maths assessment, topping the country's 47 regions and beating those that have traditionally topped national examination charts.
This means nearly all candidates in the county scored at least half of all the mathematics questions they answered during the ministry assessment.
ACHIEVEMENT LEVELS
Kirinyaga County had 95 per cent of its pupils scoring 50 per cent marks in the assessment, making second nationally. It was followed by Tharaka Nithi where nine in every 10 (90.2 per cent) of the pupils scored more than 50 per cent.
The new study mirrors another National Assessment System for Monitoring Learner Achievement (NASMLA) undertaken last year that also revealed that Tharaka Nithi and Kirinyaga had the highest achievement levels in mathematics. According to the latest study, pupils of arid and semi-arid counties performed dismally in mathematics. The county with the least number of Standard Two pupils obtaining at least half of the marks was in Samburu (45.7 per cent) followed by Wajir (54.0 per cent) and Kitui (54.0 per cent).
Turkana, which has also perennially been ranked as the poorest county, had only 54.2 per cent of its Standard Two pupils scoring at least half. West Pokot had 57.3 per cent.
Other counties with lower scores were populous and richer: Bungoma (50.5 per cent), Meru (54.7 per cent), Vihiga (55.6 per cent) and Trans Nzoia (59.2 per cent).
The Ministry of Education commissioned the Early Grade Mathematics Assessment Baseline Study last year to assess Early Grade Mathematics competencies among Class Two pupils under the Primary Education Development (PRIEDE) Project.
The baseline study focused on mathematics because the subject is expected to impart numeracy skills required to learn all subjects across the primary school curriculum. The study sample comprised 300 regular primary schools and 25 special needs education schools.
It found out that children who were at the right Standard Two age bracket performed better than those above the required years. As such, it showed that 72.9 per cent of pupils aged between appropriate age of seven and eight scored more than half of the questions.
But a lesser percentage, 67.3 per cent, of the pupils aged between 11 and 12 years (over age) attained the 50 per cent benchmark.
Overall, the study found out that there were more over age boys (50.2 per cent) than girls (49.4 per cent) in Standard Two.
"The age of the pupil had a bearing on performance, with over age boys performing poorer than the age appropriate ones," the study notes. "Older girls and especially those aged above 11 years performed poorly."
The study disproves the existing notion that girls perform poorer than boys in maths, revealing that the female gender easily beat their male counterparts. "It is observable that girls performed better than boys with 72.5 per cent of girls reaching the 50 per cent benchmark," the study says.
In all, 69.8 per cent of boys scored more than half, three points below the girls' achievement. The finding that puts girls ahead of boys is different from last year's NASMLA Class 3 study which showed that boys performed better than girls in mathematics.
However, in special needs education schools, boys performed better than girls in all the mathematical operations as well as in number patterns.
The study shows that most (71.3 per cent) of teachers in regular schools with some special needs children did not have the requisite skills to handle learners with special needs and disabilities.
SPECIAL NEEDS
It was also reported that in regular schools, teaching materials were not adapted to suit learners with special needs and disabilities.
The study showed that rural schools had a lower percentage of pupils (71.9 per cent) attaining the 50 per cent benchmark compared to pupils in urban schools (82.5 per cent).
It also shows that a larger number of pupils in private schools attained higher marks compared to those in public schools.
"This indicates that private schools performed better than public schools in early grade mathematics," the study notes.
The study shows that addition was the best performed math problem area, followed by subtraction, multiplication and division.
Raila confident NASA to form government after polls
"We are 10 million man and woman strong. The figures have changed. Demographics have changed substantially, this is going to be a completely different match from the one in 2013," said Raila in reference to the 19 million registered voters.