The forgotten legendary caves where faithfuls and politicians meet for prayer retreats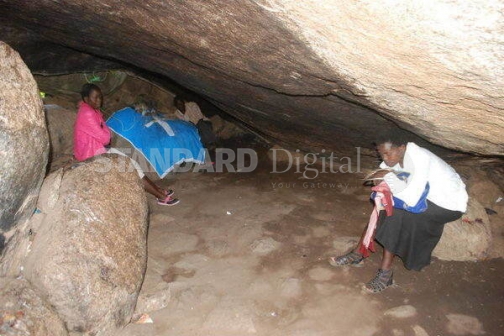 The legendary Abindu caves remain a darling to hundreds of local Christian faithful, who believe they are a source of divine power.
The caves include encrypted writings on the sides of one of the huge rocks considered to have been written by the Almighty God.
According to a local tour guide, George Odongo, no one can neither read nor interpret the writings unless he or she has divine power.
All the writings are upside down and in opposite direction. It is however, saddening the heritage site located in Kisumu West has been abandoned and gradually forgotten. Little has been written about the caves, which have a unique place in the hearts of locals including politicians, who converge there for prayer retreats.
Marketing campaign
Majority of locals believe that praying and fasting at the site, which has multiple caves with water flowing underground, could solve their life's entire problems. They spend several days fasting and praying in the deep caves.
The caves attract about 50 worshipers daily, but the number could soar up to 200 during weekends. Most of the worshipers spend a night or two while a few others do several days or even weeks.
The county government allows visitors in for free. However, locals have an arrangement in which tourists are charged Sh50 to help in maintaining the caves.
When Saturday Standard visited recently, Mr Odongo told us some local politicians have also been camping at the site, slaughtering animals and offering sacrifices.
It is believed that in the early 1970s, Abour Adet, a University of Nairobi don and who hailed from Gem in Siaya discovered the holy place, the writings and a huge serpent with three heads said to be residing in one of the caves.
Cultural activities
The county government has launched a marketing campaign to ensure the unexplored site fetches revenue.
Acting Director for Tourism Thomas Ouko stated that the county is set to build a watchtower to enable tourists enjoy a view of Lake Victoria and the incorporation of other cultural activities at the site.
"The site is being used majorly for religious purposes and we are aware it attracts several people. We have devised big plans to make it a better site like Kit Mikayi in Seme," he added.
To fight drought, involve communities
According to the latest information from the Meteorological Department, rainfall will be poorly distributed in April, May and June, and this will have a serious impact on agriculture