Death, torture and despair: A tale of Kenyans in foreign jails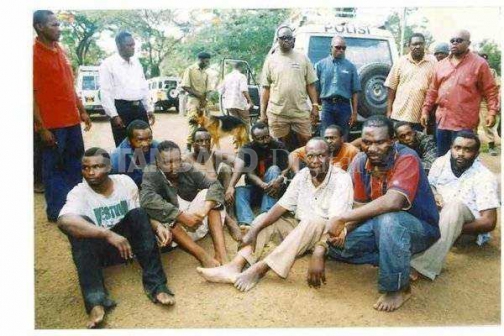 On the breezy morning of Friday December 16, 2005 a group of heavily armed Mozambican police officers stormed Maputo's Villas Das-Mangas homes and arrested eight Kenyans.
Another group of officers simultaneously intercepted and arrested four Kenyans driving in a Mitsubishi Pajero vehicle on a Maputo road. Those events transpired into what has since then been a decade-long abduction conspiracy involving senior Kenyan police officers -- a tale of agony, despair, torture and murder most foul spanning three countries.
Michael Mbanya Wathigo, Peter Gikura Mburu, Boniface Mwangi Mburu, David Ngugi Mburu, Simon Githinji Kariuki, Wilfred Onyango Nganyi and Patrick Muthee Muriithi had landed at Maputo International Airport the previous day when they were seized in dramatic fashion.
Also arrested were Gabriel Kungu Kariuki, Jimmy Maina Njoroge, Simon Ndungu Kiambuthii, John Odongo Odhiambo and Peter Mahera Kariba.
'Dangerous criminals'
The 12, some of who were related, ended up spending the next three weeks in cold hard cells at Maputo's Commando police station. Little did they know that their journey would end up in Tanzanian prisons where four of them have since died — two tortured to death and the other two killed by the same police in cold blood — five are still serving lengthy jail terms. The other three are back home after they were released in 2014.
Michael Mbanya Wathigo and Peter Gikuru Mburu, two of those lucky to be released, recently narrated to Saturday Standard the ordeal they underwent in the hands of Mozambican, Tanzanian and Kenyan police.
"I had arrived in Maputo the previous day and was looking forward to touring the city when the Mozambican police stormed my room. One yanked my gold chain off while another grabbed my wristwatch before hand cuffing me," Wathigo recalls.
The police, he says, robbed them of their mobile phones, more than $80,000 (Sh8.24 million in current exchange rates) in cash, wrist watches, wallets, jewelry and gifts they had bought for their families.
According to a brief by Mozambican police, the 12 were arrested on allegations of carjacking and stealing a car. However, it was later established that the car had been bought for Sh1.9 million by one of them.
On the day they were arrested, an inquiry judge ordered for their release. But the 12 had to remain locked up as the officer who had kept their belongings had left for the weekend. Unbeknown to them, this was to be the beginning of a long stint in jail, and to some of them, events that led to their deaths.
On the morning of Monday December 19, 2005, a senior Mozambican police officer walked into their cell. With a straight face, he told them they would not be released and shred their release order. At noon, they were paraded before journalists and declared dangerous bank robbers and carjackers.
A lawyer, Espirito Santos, got another a copy of their release order. Cornered, the police began the process of releasing them. Then another senior Mozambican police officer ordered that the 12 be detained as one of them was wanted by Tanzanian police. It would be another three weeks behind bars.
On January 13, 2006, the police produced an alleged Interpol letter indicating that Wilfred Onyango Nganyi was wanted by Tanzanian police.
Nganyi had just won an extradition case against Tanzanian police who wanted him for armed robbery. "That day, Kenyan police officers came to see us. Little did we know that they had come to participate in an illegal extradition that would see us locked up in Tanzanian jails for nine years," Wathigo says.
The Kenyan delegation was led by then Nairobi Provincial Investigations Officer (PCIO) Sammy Githui and included CID officer Reche Nyagah (now deceased), a corporal Onyango, a Njoroge and an Owino. "They assured us that we would be taken home the next day," Wathigo recalls.
Another letter came through, indicating that although the Tanzanian police wanted Nganyi, they also wanted to see the other suspects.
Early the next morning -- January 14, 2006 -- they were handcuffed and bundled into a Toyota Land Cruiser pick up and driven to an airport where an aircraft was waiting to fly them to Dar es Salaam. In a handing over note, the Mozambican authorities confirmed that they had released the 12 to Senior Assistant Commissioner of Police Sammy Githui for the Kenyan police.
Nganyi refused to board the plane. "He had identified a senior Tanzanian police officer, Hezron Kigondo, who had been involved in his extradition case. We started making noise, asking Githui why he was taking us to Tanzania," Wachigo and Mburu recall.
The pilot refused to have them on board, forcing the police to return them to Commando police station where a contingent of anti-riot police beat them up.
Two days later, they were forcefully flown to Tanzania, where they were received by a new group of menacing police officers led by then Dar es Salaam Regional Crime Officer Abdallah Zombe. (Zombe and other police officers were to be later charged with the murder of four Kenyans from this group).
Torture
Wathigo says he found himself and two other Kenyans in a cell while still in the same handcuffs he had when he left Mozambique. They would stay handcuffed for four days, without food or water.
The 12 were then transferred to Moshi where they were tortured into confessing to various crimes. "We were separately herded into interrogation rooms where we were hanged upside down and tortured into confessing our involvement in various crimes," Mburu says.
Days later, the 12 were arraigned in a Moshi court. They were all charged with armed robbery and conspiracy to commit offence. They were then locked up in segregation at Karanga Maximum Security prison for four years. Appearances in court were limited to mentions. Six months after their initial arrest and deportation, John Odongo Odhiambo and Peter Mahera Kariba succumbed to torture.
On March 6, 2014, two of the Kenyans, Peter Gikura Mburu and Simon Githinji Kariuki, were acquitted. Five months later, on August 13, Boniface Mwangi, David Mburu and Michael Wathigo were released.
Wilfred Onyango Nganyi, Patrick Muthee Muriithi, Gabriel Kung'u Kariuki, Jimmy Maina Njoroge and Simon Ndung'u Kiambuthii were convicted and sentenced to 32 years in jail.
Boniface Mwangi and Simon Kariuki were later to die in the hands of Tanzanian police. They had returned to Tanzania to visit their yet to be released comrades. The two were re-arrested in Arusha and later found dead, executed in cold blood.
Families of the five still serving lengthy jail sentence -- and two others, John Mwaniki Njoka and Kennedy Owino Owacha -- in Tanzanian prisons have petitioned the government to bring them back to serve their remaining sentences in local jails.
The Ministry of Foreign Affairs, however, says Kenya does not have a formal prisoner exchange arrangement with Tanzania. Edwin Limo, the ministry's spokesperson, said he was not aware that the families had conducted the ministry for help.
Police sources at the time said the 12 were suspected to have engaged in crime.