Al Shabaab kill Kenyan fighters over spying suspicion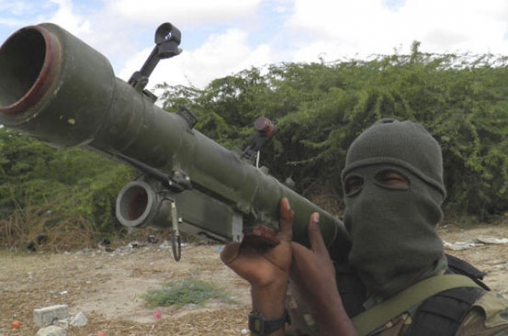 Kenyans fighting for Al Shabaab are being killed as tension rises between foreign fighters and their Somalia commanders over suspicion of spying.
A large number of Kenyan Al Shabaab fighters have since sneaked back into the country and some of them arrested.
On Monday, 26-year-old Ahmed Yusuf Hassan and Ahmed Nur Abdi Osoble, 20, were executed by Al Shabaab's firing squad in Buq Aqable in Hiraan region as hundreds of locals watched. The two had been accused of collaborating with the Somali government and allied forces' operatives.
Other Kenyan Al Shabaab fighters like Nairobi's Majengo estate-born Asum, former Moi University student Jared Omambia and Mombasa-born Faraj Abdulmajid, alongside four other foreign fighters, were publicly executed by Al Shabaab in Lower Jubba last year on accusation of spying for the Kenya Defence Forces (KDF)and Somalia National Army (SNA).
In November last year, the terror group beheaded five civilians in Somalia's Tieglow town in Bakool region for allegedly cooperating with security agents.
Executing fellow Kenyans
Only Ahmed Iman, a former Kenyatta University student who is in charge of the group's prosecutions and executions of his fellow Kenyans, seems to still hold favour with the Al Shabaab Somalia commanders. Most of those whose execution he is authorising were recruited by him.
Three Kenyan fighters have been executed since the Kulbiyow attack in January because of the increased belief that Kenyan fighters are spies working for both the Somali and Kenyan governments.
This recent Al Shabaab paranoia has extended to local clans like the Galjeel in the forested Kudey and Ras Kamboni populated by charcoal dealers who the terror group suspects of spying for AMISOM troops. Youth from this community have been kidnapped and recruited into the group and some local leaders killed for collaborating with AMISOM.
Foreign fighters in Al Shabaab's ranks have not been left out in the purge because command positions are a preserve of the locals. Kenyans from North Eastern and those who offer financial support have been appointed to mid-level command positions.
Hundreds of foreign fighters have been lured into Al Shabaab ranks, including about 40 Americans and hundreds of Kenyans, but the terror group is now on them as it wages a brutal campaign to rid itself of perceived spies in its midst.
Foreign fighters have been used especially in pushing up the number of attackers when the group attacks AMISOM troops.
Al Shabaab has also set up a network of secret prisons in which they hold, on charges of spying, a number of US, British and Kenyan citizens who joined the group.
The detainees are tortured by water-boarding, beating as well as food and sleep deprivation. One of the alleged fighter spies was recently tied to the back of an SUV and driven around town for the locals to witness what would happen to them if they spied on the group.
Suicide missions
One of the Kenyan fighters in such torture cells is Ramadhan Shuaib, alias Nawal Hussein.
Al Shabaab's Istishahadi, the bomber unit, mostly uses foreign fighters, especially those from Kenya, to carry out suicide missions, further creating tension within its ranks.
The history of the purge in Al Shabaab can be traced back to the leadership of former Al Shabaab leader Ahmed Godane, which later continued and worsened after Abu Ubeidha, aka Ahmed Diriye, took over in 2014.
Former Al Qaeda leader Osama bin Laden had always wanted to establish a foothold in Somalia for al Qaeda, but the country's clan-based system made it difficult. He later named Mohammed Fazul, a Comoros-born al Qaeda operative, as the head of al Qaeda in East Africa, with a major directive to support the jihad in Somalia.
Fazul was later to become one of the masterminds of the 1998 US Embassy bombings in Kenya and Tanzania and had organised a series of attacks against Western targets in Kenya in 2002.
He served as the link between al Shabaab and al Qaeda, tapping into Osama's resources, bringing in more foreign fighters as well as financial resources, specifically military know-how, explosives production and training of recruits.
By 2011, Al Shabaab was facing pressure from AMISOM-backed forces and had taken heavy losses, while Fazul was losing favour with the Somali Al Shabaab leadership. As the militants' leaders began to bicker over the group's next step, Fazul became isolated and unable to deal with the complex Somalia clan politics.
Fazul's differences with the Somali Shabaab leadership were further fuelled by his dissatisfaction of the group's recruitment of young people, who were in few months sent out as suicide bombers.
Strained relations
After Osama's death, Fazul found it more and more difficult to deliver adequate resources from al Qaeda to al Shabaab, straining further his relations with the Somalis.
On June 7, 2011, Fazul was killed after which the crack between the local Shabaab leadership and the foreign fighters widened.
Abu Mansour al Amriki, alias Omar Hammami, an American from Minnesota, began to openly criticise the Shabaab leadership's tactics and decisions.
When Al Amriki and other leading foreign fighters forged an alliance with Mukhtar Robow, a longtime senior member of Al Shabaab, the internal civil war for control of Al Shabaab exploded.
Al Shabaab began an assassination campaign against prominent foreign fighters. Amriki was eventually killed in 2013.
To fight drought, involve communities
According to the latest information from the Meteorological Department, rainfall will be poorly distributed in April, May and June, and this will have a serious impact on agriculture