Where teen mothers troop back to school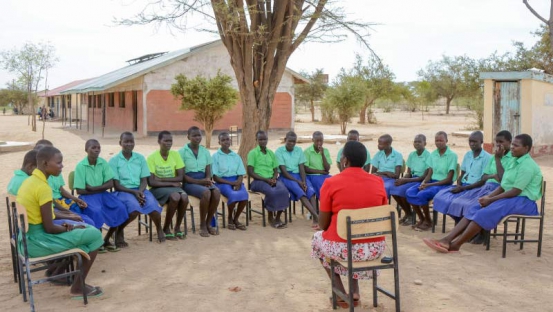 Low girl child enrollment rates in primary schools continue raising the spectre of apathy towards girls' education and the underlying hurdles.
In Northern Kenya, seven of 10 girls drop out of primary schools during or before their sixth year of study due to oppressive cultural practices.
According to the Kenya Demographic and Health Survey of 2015, 14 per cent of girls aged between 15 and 19 years have already had a birth; and 3 per cent are pregnant with their first child. Sadly, a significant number drop out of school and never return.
When Nancy got pregnant at 14 years, she was a Standard Six pupil at Nalemsekon Primary School, Turkana County, and had no idea what motherhood entails.
The estranged father of her child, who was then in Standard Eight, disappeared, leaving her nursing a pregnancy, a broken heart and an uncertain future.
Nancy's story illustrates a common pattern across pastoral communities, where many girls are forced to drop out of school due to early pregnancies.
Unlike many, she moved on and returned to school, exemplifying a new spirit of fortitude and determination among teen mothers in Turkana, who are now defying odds to pursue education.
SPECIAL SUPPORT
Today, Nancy and 13 other teen mothers are back to class at Nalemsekon Primary School. The situation is replicated at Lokichar Mixed Primary school, where 19 teen mothers opted to go back to school. At Nagis Primary School in the same county, there are more than 10 teenage mothers.
But this new wave of teen mothers going back to school is unprecedented. And whereas it might look easy returning to school after delivery at a tender age, juggling motherhood and school requires extraordinary emotional and mental fortitude.
Rosemary Natome, the deputy head teacher at Nalemsekon Primary School, says teen mothers need special support if they are to go back and make it in school. For this reason, the school has been going out of its way to insulate them against challenges of motherhood.
"These teen mothers are determined to continue with their education but they face many challenges. Sometimes the child falls sick and she has to go back home. We make special arrangements for them to go back home in case the child is sick or even has to be breastfed," she says.
Nancy is happy with the support provided by the school. "Teachers allow me to go home to breastfeed the baby. I feel the baby has been a blessing to me for I now have a new resolve to pursue education," says Nancy.
Lokichar Mixed Primary School also has special provisions for the young mothers where during break time, they are allowed to attend to their children.
Headteacher Ernest Onyango believes teen mothers should not be denied education because of their circumstances. "We have learnt that teen mothers put extra effort in their education and even perform better than other girls," he says.
However, negative cultural practices, stigma, shame and unfriendly school environment still conspire to frustrate the young mothers.
BRIGHT FUTURE
Mark Rotich, the Director of Wasichana Wote Wasome (WWW) project, which is part of the global Girls' Education Challenge funded by the UK Government, says the best way to encourage teen mothers to go back to school is to address the challenges they face at a personal level at home, within the community and also at school.
"We need to adopt a system that entails psycho-social support to the young mothers. Teachers should also be sensitised to create a conducive environment for teen mothers" he says.
Turkana County Director of Education Pius Ngoma says teen motherhood is a result of multiple challenges girls face, including retrogressive cultures.
"For example, in pastoral communities when girls reach a certain age, they are required to find a place to sleep, because the size of the Manyattas cannot accommodate them. This makes them very vulnerable," he says.