EACC says it has fresh leads on Auditor General's case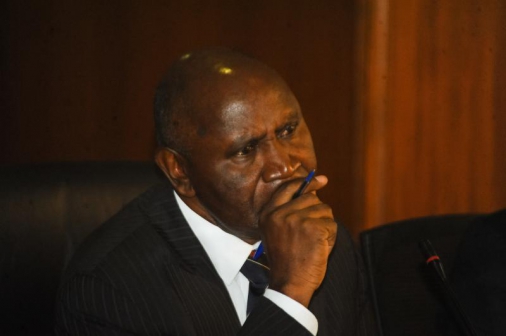 Auditor General Edward Ouko may not be off the hook yet over corruption allegations levelled against him.
The Ethics and Anti-corruption Commission (EACC) says it is following more leads into claims that he abused his office and presided over procurement malpractices.
Ouko survived being charged in court after Director of Public Prosecutions Keriako Tobiko declined to prosecute him after he identified gaps in the investigation file and sent it back to the EACC.
But the commission now says that although there is no evidence to suggest that Mr Ouko directly benefited from proceeds of alleged corruption in his office, it could reopen the case against him, for among other issues, signing payment vouchers before a contract for the supply of a Sh100 million audit vault was signed.
Commission Deputy Secretary Michael Mubea further told the National Assembly Finance committee that Ouko personally approved single-sourcing of the vault, yet there were other companies that could supply the equipment.
He said a tender committee was not involved in the award of the tender to OSI Kenya, neither was there a tender notification issued before the vault was supplied.
"The tender committee never awarded the tender. After the tender committee approved single sourcing, the matter was never referred to them again. It is the office of the Auditor General and his deputy that was running the matter," said Mr Mubea.
Ouko is fighting a petition that wants him sacked for among other issues violating the Constitution through various sins of omission and commission.
He, however, claims he is being fought for his record in exposing official corruption in government.
Other charges against Ouko relate to misappropriation of funds in relation to the awarding of a tender to hire the services of Baker Tilly Merally audit firm to undertake a consultancy job in the auditor's office.
He is also accused of irregularly awarding a tender for review IFMIS effectiveness to Jomo Kenyatta University of Agriculture and technology (JKUAT).
Mubea tabled a matrix showing a money trail from the company that supplied the vault to various organisations and individuals, some within the office of the Auditor General, but said there was no direct link to Ouko.
The commission also said it has no evidence that one of the recipients of the money is related to Ouko as alleged in the petition.
The anti-corruption agency said Ouko personally signed payment vouchers for the audit vault after the person responsible for the signing declined, citing lack of supporting evidence.
Tobiko, who appeared before the committee, defended his decision not to prosecute the Auditor General, but said he was ready to receive more evidence against him and others named in the EACC investigation file.