One person killed, animals stolen as Deputy President William Ruto visits Kerio Valley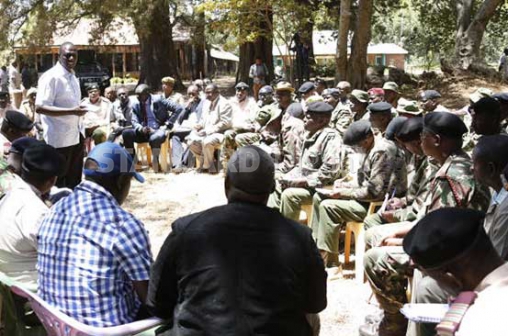 Suspected Pokot raiders attacked different parts of Marakwet East Sub-county as Deputy President William Ruto visited the volatile region.
The DP visited the area on Tuesday to assess the ongoing security operation aimed at flushing out bandits.
One herder was killed while a national police reservist was injured and unknown number of livestock stolen by the gun-toting raiders believed to be from West Pokot and Baringo counties.
The incident took place at Kamasia village, about 10km away from Kerio Valley Boys High School in Tot, where Mr Ruto was chairing a security meeting before addressing residents.
Residents said more than 15 heavily armed bandits suspected to be from the neighbouring West Pokot County engaged the newly recruited police reservists in a fierce gun battle before they were repulsed. A herder was killed and one reservist injured during the 5pm incident.
AREA TENSE
Marakwet East police boss Remmy Njiru said Aden Kilimo, 26, was shot in the right leg and right hand.
"He was rushed to the nearby Endo mission hospital where he was pronounced dead upon arrival. No animals were stolen but the area remains tense and security has been beefed up," he said.
Before Ruto flew to the area, another gang of cattle rustlers said to be from Baringo County raided Kasagat village and stole livestock.
Wilson Kiptoo, a local, said the bandits attacked a group of herders who were grazing their livestock near the Kerio River.
"The Government should find the root cause of these attacks and we have every reason to believe they are well coordinated since the bandits are not scared of the heavy presence of police," he said.
After meeting security chiefs, Ruto told locals that the state would not negotiate with the attackers, adding that they would be firmly dealt with.
A section of Pokot leaders including West Pokot Senator John Lonyangapuo had asked the Government to suspend the security operation and give dialogue a chance.
"The Government will not negotiate with criminals who kill women and children and steal livestock," said Ruto, who visited the region for the second time within two weeks.
He said the Government would ensure the criminals are punished and called on local leaders to work closely with security agencies to restore tranquillity.
"I will not tire visiting this region because, as the Government, we will not rest until long-lasting peace is achieved but first we must flush out the bandits," the DP added.
He regretted that the attacks had displaced many people, saying his mission was to ensure all people especially women and children who had fled return home.
Senator Kipchumba Murkomen and Marakwet East MP Kangogo Bowen accompanied the DP.
MR Murkomen criticised leaders calling for dialogue, saying: "Negotiating with the bandits will be a waste of time since they launch attacks even in the middle of an ongoing security operation. We commend the Government efforts in attempting to restore calm and the spirit should go on."
In January, suspected Pokot raiders killed a police reservist in Kabetwa, Marakwet East. David Kanda, 32, a Kenya police reservist who was on guard with other officers, was killed by the bandits who also drove off with an unknown number of animals.
The raiders sprayed the officers with bullets before stealing a G3 rifle.
The Kenya police reservists were protecting herdsmen who were grazing their livestock when they were attacked.