Jubilee declares advertising blackout on local media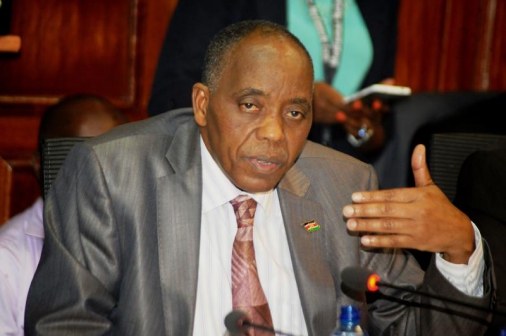 The Jubilee government has frozen all advertisements to the country's four main national newspapers in a move likely to put it in a collision course with the media industry.
A special Cabinet meeting early this month resolved to have the State start its own publication referred to as MY.GOV, where all adverts will be published. All State agencies too have been asked to direct adverts to the publication.
Head of Civil Service and President Uhuru Kenyatta's Chief of Staff Joseph Kinyua has since communicated the directive to all ministries. The move will deprive newspapers millions of shillings in revenue, and could lead to massive job losses.
In a circular dated February 8, 2017 from Mr Kinyua to all ministries and copied to Attorney General Githu Muigai, all directors of administration (MDAs) have been warned that failure to comply will lead to them being surcharged.
The circular from Kinyua states that in line with the Jubilee government's desire to cut cost in the provision of services, there will be no need for MDAs to use resources allocated to them to advertise their services and convey requests for service from the market.
Stern warning
"In this regard, each accounting officer shall ensure any request for services by them will be done through MY. GOV publication. Any officers found violating this requirement will be liable to surcharge of the amount spent besides other disciplinary measures," the circular reads.
The State, through the Government Advertisement Agency (GAA), has already held meetings with media houses informing them of the decision and requesting to distribute its publication as an insert in the mainstream papers.
GAA had asked representatives from the commercial departments of various media houses to give a quotation on how much they can charge to distribute the paper.
Media executives have rejected the move and insisted that they can only carry the insert on condition that they have a say in the editorial content and adverts thereon are paid as per individual media houses rates.
Media owners are interpreting the move as a slap on their faces coming at a time the State, through GAA, owes them more than Sh1 billion in unpaid adverts for the past 18 months.
The People Daily owned by President Kenyatta's family has since accepted the offer while The Standard and the Star newspapers declined. It's not clear if The Nation was given the offer.
"The policy is now new as its part of the original intention of forming the GAA to streamline government advertisements and cut cost. All media houses have been informed of the same," ICT Cabinet Secretary Joe Mucheru said.
The move has also created rifts in government circles after GAA head Dennis Chebitwey was moved to head MY. GOV while retired President Mwai Kibaki's spokesman Ngari Gituku is set to replace him.
Mr Chebitwey, who served as the pioneer CEO of GAA and Kenya Year Book, was reportedly moved following a fallout with his bosses when he opposed the policy saying it is likely to create a vicious war between the State and media houses.
Huge budget
The new GAA boss will now control more than Sh2 billion in annual advertisement.
Saturday, players in the media cried foul over the new policy saying it would hurt the industry.
Media Owner's Association member Kiprono Kittony termed the directive 'ill intended and not well thought out'.
"The role of the government is to provide a conducive environment for investors including those in the media industry to do business and not closing revenue streams. This move has far-reaching implications," Mr Kittony said.
Nation Media Group Editor-in-Chief Tom Mshindi termed the move worrying, saying the government should have explored other means of pushing its agenda other than starting its publication and asking the independent media to distribute it as an insert.
"It is surprising and disappointing and it's clearly intended to starve media of a key revenue resource. When a government wants to create its own platform and push adverts there, it's very worrying. We are asking the State to rescind the move," Mr Mshindi said.
"This is a clear way of killing press freedom by denying media houses revenue, especially those critical of government. The government should come up with polices that make a good environment for business in the media industry. Other countries are even removing taxes on newsprint and equipment in the wake of digital evolution that put pressure on earnings of media houses," Kenya Union of Journalists Secretary General Eric Oduor said.
Media Council of Kenya chairman Charles Kerich, while saying the move was a major setback to the industry, said the media now has to find alternatives of generating revenues.
"The media will have to continue being innovative in these difficult times. We have seen some newspapers in the world announcing growth and even increasing their workforce despite reduced advertising. People are willing to pay for good content and that's the direction the Kenyan media may have to look," Mr Kerich said.
Suspect move
According to Article 19, an organisation that defends media freedom, the new policy has an ulterior motive and is a clandestine way of seeking to control the media.
Article 19 Director for East Africa Henry Maina said the move violates Article 34 of the Constitution and international media treaties that Kenya has signed. "You cannot dictate content of independent media houses; this is clever way to arm-twist them to skew editorial content in favour of government. A government should not interfere with editorial independence of a media house," Mr Maina said.