'We took up song and dance to help fight crime, drug abuse'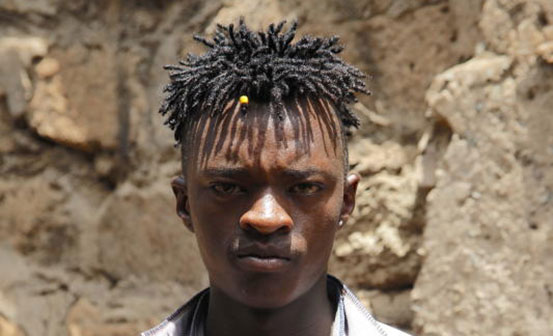 David Ndegwa was in bed when he heard sirens outside his house after midnight. He could hear voices and heavy footsteps walking towards his house. He heard a loud rap followed by an order to open the door.
"I immediately knew it was the police. The way they knocked on the door, it couldn't be anyone else," he says. Ndegwa, 20, was intoxicated. He had spent most of the day smoking marijuana and consuming illicit brew – a habit he had picked up after joining a gang in Ruaraka slum, Nairobi. His life had been a calculated hide and seek game with the police, and now they were at his door.
"I froze. They knocked again but I didn't move even an inch," he says. His friend and immediate neighbour flung the door open when he heard a knock. The police started questioning him. He bolted out of the house, trying to escape. A chase ensued. He drew a gun and shot at the police. They shot back.
Ndegwa says when he heard the first gun shot, he threw himself under the bed and stayed still as sounds of gun fire permeated the silence of the night.
By the time the police were leaving, his friend had been felled by a bullet. "We had spent time together then a few hours later he dies. I knew if I don't change my ways, I would die too," says Ndegwa of the 2015 incident. He then began his chase for a new life. One devoid of drugs and crime. Ndegwa says his entry into crime was driven by hopelessness and unemployment.
After finishing high school, he left his home in Njoro to look for a job in Nairobi. He had big dreams; but they were crushed when he was hit by the reality of joblessness in the city. "I tried casual jobs but they were unreliable. I started asking the boys around how they were making ends meet, and that is how I ended up in a gang," he says.
Ndegwa's story reinforces the latest National Police Crime Report (2015) that recorded an increase in crime across the country. "Offences against morality have increased by 19 per cent, and use of dangerous drugs has increased by 14 per cent," read part of the report while comparing the 2014 to the 2015 crime rates. Ndegwa says on the night his friend was shot dead, he made a resolve to turn over a new leaf. He has since joined "Reformist Kwetu" – a group that brings together youths from different backgrounds and encourages them to explore their talents and disengage from crime. "I now dance and perform in road shows for pay. I have stopped engaging in crime," says Ndegwa.
Mark Otieno, 20, who is also a dancer in the group recalls a life of hardship when his parents died. He dropped out in primary school when school became too expensive. He says right from childhood, his life has been a continuous battle to make ends meet while fighting hopelessness. When he joined the dance group, he says he had so much pent up emotions, and they oozed in every move he made. "I was angry at how unfair life was. I let it out through dancing," he says.
Group vice chairman George Aguko says youths growing in low income homes are exposed and lured into a life of crime due to lack of decent opportunities.
Hannington Yanana, who lives with his single mother, says finding an activity that explores his talent has provided a safe place where he can be productive.
Their dance group is now fine tuning moves they will use to discourage youths from engaging in crime, especially during the election period.