Three killed as gangs clash at disputed East Africa Portland Cement land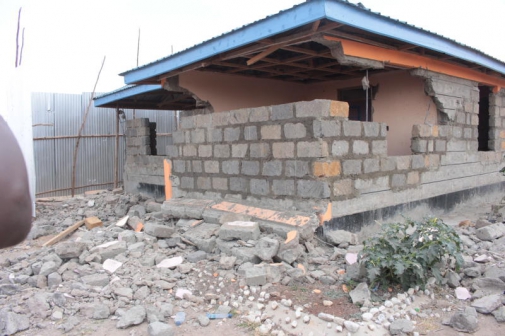 Three people were killed and several others injured as two gangs clashed over a disputed piece of land belonging to East Africa Portland Cement Company.
The 13,000-acre piece of land in Athi River has been at the centre of a long-running dispute, with fears that powerful individuals want to grab it despite several court orders.
Friday, five buses ferrying youth said to be members of the outlawed Mungiki sect arrived at the contested property to evict squatters.
Armed with machetes, bows, arrows and other weapons, the youths vandalised houses and chased away anyone on sight. But later, another group arrived leading to skirmishes.
The ensuing chaos lasted for hours causing a traffic snarl-up on the Nairobi-Mombasa highway.
Police from the Athi River Division called for backup from Machakos as boda boda operators blocked the highway with burning tyres and stones.
Machakos police boss Samuel Mukinda said that the group said to be from Nairobi was claiming ownership. "We have arrested about 100 youths over these skirmishes and we are hunting for more," said Mukinda.
Over 20 people were injured. The gang said to have come from Nairobi hijacked a bus belonging to Umowa Sacco after they were overwhelmed and commandeered it towards Mlolongo.
But boda boda operators gave chase and caught up with it at Sabaki, pulled a number of them out and accosted them. Three of them died but police managed to save one.
"We took him to Shalom Hospital but he is very lucky we got there," Geofrey Omoding, the Athi River deputy County Commissioner told The Standard on Saturday.
Machakos County Senator Jonstone Muthama and his Nairobi counterpart Mike Sonko visited the scene.
Locals claim two people were shot dead by the police during the clashes, but the police denied.
Before Friday's clashes, there have been reports of bizarre killings over the land. Last year, Omoding said 15 people were killed in relation to the property which is now subject to several court cases.
Among those laying claim to the land are two groups calling themselves Syokimau/Mavoko Community Association and Kathama Welfare Association. EAPCC has been putting up newspaper adverts warning the public against buying the plots under parcels numbers 8784/4, 10424, 10425 and 7815/1 which are allegedly being sold for Sh500,000 for an eighth an acre.