Edward Ouko played by the book to escape dragnet set by juniors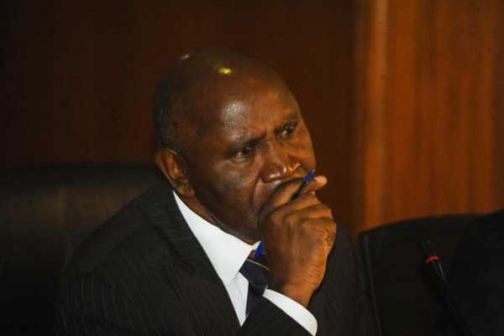 Auditor General Edward Ouko escaped the Sh100 million audit vault tender scandal through his choice of words in official correspondence on the matter.
When his deputy Stephen Kinuthia requested his authority to issue a formal Local Purchase Order (LPO) to process payment for the contract on August 26, 2013, Ouko cleverly responded:
"I approve on confirmation all due diligence undertaken. Ensure procurement regulation 62(3) complied with...."
This despite the fact that Kinuthia had assured him "the process had been completed properly and all procurement procedures followed including due diligence by the tender committee" in the request memo.
Kinuthia then wrote to the procurement manager Lucas Ouma directing him to "please deal urgently on the 62(3) matter" to which Ouma responded the following day, August 27: "Actioned as attached."
In knocking off EACC's first "abuse of office charge" proffered against Ouko, Director of Public Prosecution (DPP) Keriako Tobiko said it was clear that the tender had actually been awarded. The anti-corruption body had based the charge on alleged execution of contract without an award having been made.
"The tender committee at its meeting of June 24, 2013 not only approved the use of direct procurement method but also did make and must have been understood by all to have made an award to OSI Kenya Ltd," Tobiko said.
On EACC's second charge of engaging in a project without prior planning, the DPP said there was enough evidence in the EACC file negating the same charge.
The final charge against Ouko — willful failure to comply with the law relating to procurement — was equally found defective on the basis of lack of specifics and also for being illogical.
"From the evidence, Ouko was deceived by Kinuthia, Annette Mwangi and Justus Ongera regarding the issue of OSI being the exclusive supplier of Audit Vault and regarding the issue that all processes and procedures had been followed including due diligence by the tender committee," DPP said.
The DPP also noted that EACC was not proposing to charge other members of the executive committee who endorsed single-sourcing with a similar offence, including two other deputy AG's, J Kagondu and Alex Regura.
He suggested that the failure to charge these other executive committee members was the correct decision but fell short of asking why EACC was going hammer and tongs at the AG.
The DPP also raised issue with partial attention to other concerns of the whistle-blower who flagged out the audit vault matter to Treasury Principal Secretary. It turns out audit vault was just one out of the nine issues raised.
The others are irregular recruitment, Sh160 million worth of IT equipment allegedly single-sourced from a relative of Kinuthia, procurement of five Toyota Prados whose plates whose registration plates were changed to private ones, irregular acquisition of 10 Ford Everest vehicles, single-sourcing of IT networking services to firms which lacked capacity, over-priced and irregular acquisition of laptops at Sh39 million among others.