Eastleigh residents in jubilation after election of Farmajo as Somalia President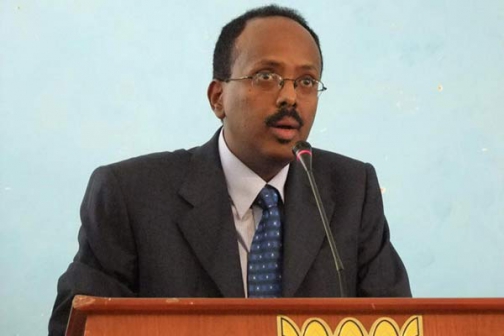 Celebrations erupted in Nairobi's Eastleigh estate following the election of Somalia's President Mohamed Abdullahi 'Farmajo'.
The commercial hub on the outskirts of Nairobi, Kenya, which is widely known as small Mogadishu due to the huge number of Somali immigrants inhabiting the town, welcomed the presidency with hope and optimism.
Ahmed Mohammed, member of the Eastleigh Business District Association, was among the thousands that came out on Wednesday night to celebrate the victory.
Elated by the news, Mohamed was opined that the President elect would restore stability in Somalia, which would in turn see business relations between the two countries improve.
"President Farmajo will bring about stability and some form of rule of law to the people of Somalia and that's why his presidency is most welcome," said Mohamed.
The businessman said that the youth in Somalia were expected to benefit from the 'new dawn' since Farmajo's Government was keen on ending unemployment.
"We have trust in the president because he was part of the transition government as a Prime Minister and from his development record we trust that he is going to deliver," added Mohammed.
NEW DAWN
Hassan Guleib, also a resident and businessman in Eastleigh, said that Somalia was experiencing a new dawn and was against the notion that the country was falling apart.
He noted that Somalia has not had a one-person one-vote democratic election since 1969 and what happened on Wednesday was a manifestation that the country had a bright future.
"I prayed very hard for the win and when I received the news, all I could think of was how President Mohamed will serve his country and eradicate vices such as corruption," said Guleib.
Other areas in Nairobi such as Fedha in Embakasi, South C and South B estates also took to the streets to usher in the 'Mohamed era'.
And in Garissa, residents and other Somali-dominated areas also took to the streets to celebrate.
They hailed the newly-elected former Prime Minister as a step toward emancipation of Somalia from the ills of bad governance that kept the country in a political quagmire for nearly three decades.
Hundreds of locals moving in huge convoys of vehicles celebrated through the night and into the early hours of Thursday morning.
Others took a walk in the town's streets waving the Somalia flag, beating drums and chanting pro-Farmajo's slogans.
"We believe the newly-elected President will bring the much-needed change in Somalia, insecurity and corruption being the most challenging and complex thing in that country. We congratulate and at the same time pray for him in his new position," said Mama Halima Abdi.
She said Mr Mohamed, who is also known as Farmajo, had shown leadership qualities when he was prime minister, adding that he had brought some sense of order in the war-torn country.
Teachers oppose new rules on weekends and public holidays
In a circular dated February 2, Teachers Service Commission (TSC) Chief Executive Nancy Macharia directed Government ministries, agencies and non-governmental organisations undertaking educational tasks that require teacher participation to schedule these for weekends and school holidays.