Revealed: Why DPP Keriako Tobiko cleared Auditor General Edward Ouko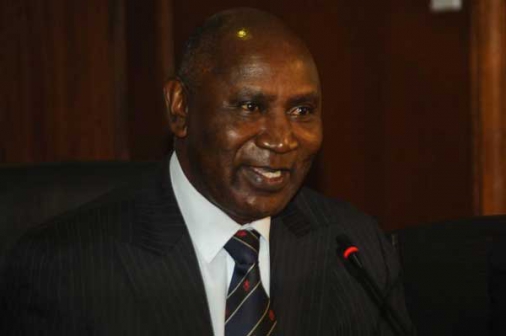 An early morning statement by Director of Public Prosecutions Keriako Tobiko thwarted a spirited campaign to prosecute Auditor General Edward Ouko over procurement irregularities in acquiring the software used to unravel the full scope of the National Youth Service scam.
In the statement sent out to the media at crack of dawn yesterday, Mr Tobiko cleared Mr Ouko of all the three charges of corruption, but approved prosecution of retired Deputy Auditor General Stephen Kinuthia on expanded charges.
The investigations on over-priced audit software spanned three years. Yesterday, Tobiko appeared to have indefinitely closed the file on Ouko since he did not either return it to EACC for further investigations or issue further directives on it.
Under the Jubilee administration, Ouko has been a marked man. President Uhuru Kenyatta has ridiculed him on live TV over his audit on the Eurobond scam. Leader of Majority in the National Assembly Aden Duale has publicly accused him of deploying audit reports to serve political ends and MPs have passed a Bill clipping his powers.
"Based on the analysis of the evidence, I have concluded that the charge of abuse of office recommended by EACC against Edward Ouko is not supported by the evidence in the file, the charge of engaging in a project without prior planning is not supported by evidence in the file and charge of failing to comply with procurement laws is not supported by evidence in the file," Tobiko said.
In his decision, Tobiko not only approved two of the three charges Ethics and Anti-Corruption Commission (EACC) had ascribed to Kinuthia but also added five more charges. Kinuthia, who retired two years ago, will be charged alongside Director of ICT/Audit Justus Ongera and Manager ICT/Audit Anette Mwangi.
Also to be charged alongside the three are officials from OSI Kenya, the company that supplied the software at a cost of Sh100 million. They are directors Shem Kamau, Ephantus Kairu and Silvester Kiplagat.
Charles Gichobi, a Sales Executive with Oracle who received Sh500,000 and Charles Mwaduna, a director of Mars Technology Associates who received Sh7.9 million will also be charged. Six companies - OSI Kenya Limited, Mars Technology Associates, Finsoft TCS Limited, Enkei Holdings Ltd, Nanazi Investment Ltd and Kenya Milk Farmers Ltd together with their respective directors will also be charged with money laundering offence. "I have therefore directed that prosecution should ensue accordingly. I have also directed that copies of the duplicate inquiry file be forwarded to the Asset Recovery Agency and KRA for appropriate action in terms of their respective legal mandate," the DPP said.
In its report to the DPP, EACC had wanted Ouko charged with abuse of office, failure to observe procurement laws and engaging in project without prior planning - all contrary to various provisions of Anti-Corruption and Economic Crimes Act, 2003.
Suspect property
The anti-graft agency wanted Kinuthia charged with Ouko's first two charges plus two additional ones of dealing with suspect property and acquisition of proceeds of crime. Kinuthia allegedly got Sh27 million from the Sh100 million paid for the software.
The two other OAG officials- Ms Mwangi and Mr Ongera were to be charged with the offence of "knowingly deceiving principal" while the directors of OSI Ltd were to be charged with conspiracy to commit an economic crime.
Tobiko approved most of these charges but roped in the directors of OSI and directors of five other companies on money laundering charges. Tobiko's new charges against Kinuthia include conflict of interest, engaging in corrupt practice, collusion, conspiracy to commit economic crimes and corruptly giving a benefit of Sh500,000 to a sales executive.
"I would hasten to add that all those directed to be charged are and each one of them is presumed innocent until proven guilty in a court of law," Tobiko said.
The clearance of Ouko leaves Tobiko on the spotlight of the forces which wanted the Auditor General out. It also turns the focus on a parallel parliamentary process seeking removal of the Auditor on similar grounds.
The parallel process was launched on Thursday this week after activist Martin Nkari filed a petition in Parliament seeking to remove the Auditor General. Nkari claimed the DPP "had failed to give satisfactory response" on the matter.