Why Attorney General Githu Muigai is dancing to his own dirge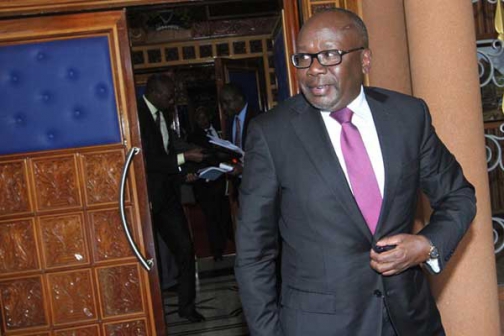 In the backdrop of intense back-biting, wheeler-dealing and power-broking taking place at Sheria House, Attorney General Githu Muigai continues to sit pretty.
Like his predecessor Amos Wako, the affable professor of law has read the writing on the wall and is reportedly planning his own exit.
Such prudence either comes with age or through quality training. In the case of Muigai, it may be both. At 57 from Tuesday this week, the man is hurtling closer to the sixth floor with unmistakable deftness.
In training, he has achieved every possible accolade on his way; from being the best East Africa Advanced Certificate in Education (EAACE) student in Meru School in 1979 to the best student for each of the four years at the University of Nairobi's law school.
From the quiet of academy, practice and consultancy, he was sucked into the turbulence of public service on three occasions. The first was a flop, the second a miss and third a major hit.
"Prof Muigai is a principled advocate – courteous and respectful and one who has rightly earned the respect of his professional colleagues. All these attributes would undoubtedly serve him well were he to be appointed Attorney General of this country," Law Society of Kenya, through its secretary Apollo Mboya, wrote to Parliament on the eve of his third public appointment.
Anglo leasing ghost
Three years later in 2014, LSK was dishonouring him over controversial Anglo Leasing payments. When he botched the process through a court intervention, the society shifted the battle to Parliament.
"It was a unanimous council resolution to issue him with the certificate of dishonour and that we petition for his removal. Until then he was my friend. I still consider him a friend to this day although he cut me off completely after that," Mboya told The Standard on Sunday.
At Parliament, Muigai took on his own professional organisation with as much gusto as in the courts. At the end of it, he left the committee more confounded with contradictory propositions: "The AG sits in the Cabinet but he is not a member of Cabinet." "The AG does not have security of tenure but enjoys right to fair administrative action." "The security of tenure for the AG should subsist so long as the President has confidence in him." "The AG is insulated from removal by any other process other than by the President."
Those who know Muigai well say he's both shrewd and firm. Others say he's the only "insider-outsider" in government. By June 2013 and barely months after a stellar "amicus curiae" performance before Supreme Court, defending the election of President Uhuru Kenyatta, he was already feeling the heat.
"My transition has not been smooth. You know in academia, you deal with theory — the ideal world. This is an office with far greater complexity and I am still learning. The learning curve has been steep," he told a media inquiry on his transition to public office.
His star appearances for the "Government of Kenya" in the ICC cases at The Hague and backroom intrigues to cock up the cases did not neither appease the movers and shakers of government nor the members of civil society who threw mud at him.
For all his efforts, and despite risking his all for the "dynamic duo", Muigai has received nothing but hushed sneers in government. He has been sandwiched between two powerful men — Solicitor General Njee Muturi and Constitutional and Legal Affairs Advisor at the presidency, Abdikadir Mohamed.
Whether the decision to close Daadab Refugee Camp or to bypass Senate on the Division of Revenue Bill, the crafting of controversial security laws, Anglo Leasing payment or Standard Gauge Railway approval, Muigai has always come out in public as one playing catch-up.
In most cases, the decisions appeared to have been made elsewhere and the AG left to choose between defending or denouncing them. In the latter option, he always risked digging his own grave.
"He's quite elitist and that partly informs why he has been aloof in this government. Most of us think he may have underestimated the delicately political nature of his office and the demands this was going to place on his principles, values and predispositions as a scholar," a former colleague of his at the University of Nairobi said.
The colleague, also a professor of law, believes Muigai's "idealistic" grasp of law and its philosophy has no place in the current regime. He is not surprised that more often than not, Muigai appears clueless about things, is often side-stepped and sometimes seemingly contradicting the will of his bosses.
Mohamed Nyaoga has known Muigai for the last 37 years. Apart from having gone to school together, forming and running a successful law partnership, the pair are good friends. He told The Standard on Sunday that the last thing he was worried about is what would become of his friend should he be boxed out of Sheria House.
Nyaoga himself has dabbled in public service and knows the push and pull that come with such jobs. "In public service, to expect a smooth sailing is more akin to expecting a bull not to knock you down just because you are a vegetarian," Nyaoga says.
Nyaoga was being kind to the man who in the wake of Anglo Leasing pay-out fury described himself as a mere mortician. A former junior colleague at the Constitution of Kenya Review Commission (CKRC) was ruthless: "From my experience of Githu during the CKRC, I can say he lacks professionalism. He did not keep appointments or attend meetings. He devoted very little time to his duties as a commissioner."
His former boss at CKRC Prof Yash Pal Ghai told The Standard on Sunday that Githu "has potential. He is intelligent. He needs to apply himself to the task at hand."
Ghai's take
However, in a book chapter "The Attorney- General: Upholders or Destroyers of Constitutionalism?" Ghai appears to agree with the ex-CKRC official quoted above when he introduces Muigai as a CKRC "member albeit not very active."
In the book- The Legal Profession and the New Constitutional Order- Ghai dissects his former student with a sharp scalpel and concludes he has shown himself to be no different from his predecessors.
"As before with AGs, the compulsion to please the President appears to be determinative," he says of Muigai and whines about his imperviousness to criticism. Some of Muigai's predecessors were legends in ignominy. The first AG Charles Njonjo holds a dubious record of setting a bad precedent for his successors. His stooge of a successor, James Karugu, did make much of an impression, quitting barely after a year in office.
Joseph Kamau Kamere, the man who came after him has been described by lawyer Paul Mwangi as "one who stands a very good chance of winning distinction as the world's dimmest Attorney-General".
And then there was the inimitable Mathew Guy Muli who dismissed some accused people as "thankless donkeys" and one who is said to have "readily perverted legal philosophy".
To cap the dishonorable list of Muigai's predecessors is the "smiling Wako" who in Ghai's own words ended up being the most devious and cunning. And disappointing many!
Ghai seems to think that Muigai conflated his various capacities and responsibilities in the ICC cases. He has failed to properly organise Sheria House into a properly functioning law firm.
"Most drafts are sloppy, products of cut-and-paste, internally inconsistent, and uninformed by constitutional or government policies," Ghai says in the book.
But there's more of Ghai's take-down of the man who authored "Jomo Kenyatta and the rise of ethno-nationalistic state in Kenya". He accuses his office of being "strikingly mono-ethnic at the higher levels" in violation of the constitutional value of inclusion.
In Macbeth, William Shakespeare extolled the timeless virtue of justice: "This even-handed justice commends the ingredients of our poisoned chalice to our own lips."
Prof Githu Muigai may as well have unknowingly authored his present predicament while crafting the controversial Office of the AG Act. It has turned out to be his poisoned chalice.
In the prophetic words of Mbita MP Millie Mabona, Githu had "cut his work out for himself".
Loads of power
The Act has been described as "testimony to the appetite of Kenya's AGs for loads of power and impunity" for stretching his mandate and granting him imaginary security of tenure contrary to the Constitution.
Ghai is on record accusing him of "megalomaniac moments" in the Act which created in him a god of sorts within government- omnipresent in all departments- including independent commissions- unaccountable to none, no procedure for removal and creation of a monster AG who is "neither one thing nor the other."
He also accused the AG of committing a "strange, unnecessary and unfair historical anomaly" of getting the Act to proclaim himself the head of the Bar.
The new Office of AG (Amendment) Bill, churned off the rumour-mill as Muigai's chief end, seeks to cure the runaway mischief the original Act created. Its timing (end of term) and purpose (provision of procedures of removing the AG) have only served to bolster the impression that Muigai's days at Sheria House are numbered.
"He's a multi-faceted person, extremely versatile and well trained. Because of his experience, his stature and the quality of his training, I believe he would be spoilt for choice on what to do next," Nyaoga says of the man he admits they've come along way together.
Well, Muigai is not waiting. He has placed all his bets on The Hague-based International Court of Justice (ICJ) judicial appointment due later in the year. To sail through, however, Muigai will have to be nominated by four Kenyan jurists, and then voted in by the United Nations General Assembly and the Security Council.
It is not for no reason that he dazzled and mesmerised as he defended Kenya at the court in a maritime dispute lodged by Somalia. The question is; will he get the necessary political support?