Hotel asked me to fetch drinking water from the toilet, says Dr Leakey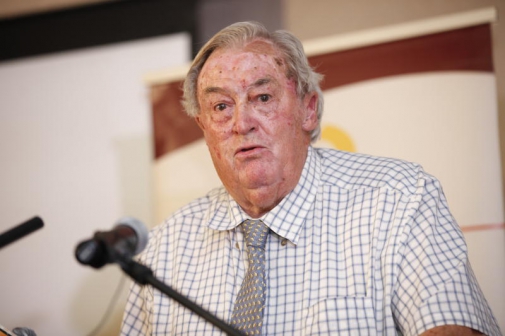 Kenya Wildlife Service (KWS) Chairman Dr Richard Leakey has accused a city restaurant of humiliating him by asking him to fetch drinking water from the toilet.
Dr Leakey said he ordered pizza to share with his wife, Dr Meave, at La Cascina Restaurant in Karen on Tuesday and also asked for water, but the waitstaff refused to give them tap water and told them they only serve bottled water.
In a complaint letter addressed to Nairobi County Trade and Tourism Executive Anne Othoro, Dr Leakey accused the Italian restaurant's owner of harassing them by not only refusing to serve them tap water, but also kicked them out of the premises located at the Hub in Karen.
"I suggested that under the law he was not entitled to deny us water and force us to buy his expensive bottles. In response to my request, he gave me two plastic cups and told me to go to the toilet to get my own water," he says in the letter.
The conservationist said after he remonstrated, the owner of the restaurant took away their unfinished lunch, called security and told them to leave.
"I asked for his card and he refused, saying I should take him to court if I was not happy," says Dr Leakey.
The letter was copied to Tourism Cabinet Secretary Najib Balala, Kenya Tourism Board (KTB) CEO Dr Betty Radier, Kenya Association of Hotelkeepers and Caterers chair Jaideep S Vohra, Director of Immigration Maj Rtd Gordon Kihalangwa and the manager of the Hub, Johan Yatch. Dr Leakey asked for the withdrawal of the restaurant's licence.
"I would politely suggest that this restaurant have its licence withdrawn and the proprietor be made to understand that Kenya and Kenyans do not expect or tolerate this Trumpish attitude," reads the letter.
"If I want to drink tap water, I surely can and he is free to caution me, of course. But to tell me I can get my water in the toilet is not only appalling behaviour, but direct violation of my constitutional rights as a Kenyan."
Consumer Federation of Kenya (COFEK) Chief Executive officer Stephen Mutoro said they had received the complaint letter and would pursue the matter and make it a case study for those in the hospitality industry.
Mutoro said they will consult Dr Leakey so that they can follow up on his compensation for the harassment and humiliation.
He said a tweet over the incident by lawyer Donald Kipkorir, who was purporting to represent the restaurant, was distasteful.
Kipkorir tweeted, "Dr. Richard Leakey went to La Cascina and demanded to be given TAP WATER!!! Upmarket restaurants the world over by business choice don't."