Stop bullying chiefs, Raila Odinga tells Joseph Nkaissery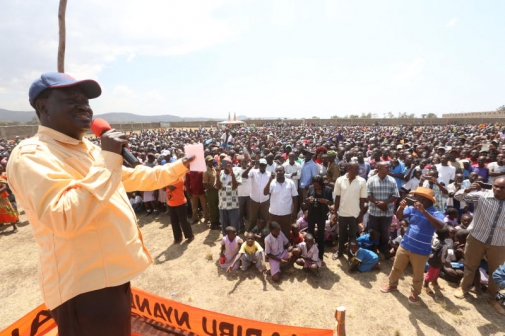 ODM leader Raila Odinga has threatened to mobilise Kenyans against paying taxes if the Jubilee government fails to withdraw its threat to sack chiefs siding with the Opposition in voter registration.
Speaking at Nyandiwa Trading Centre in Homa Bay County, Raila criticised Internal Security Cabinet Secretary Joseph Nkaissery for threatening chiefs who are working with the Opposition in voter registration, that they risk being fired.
Nkaissery said on Thursday that chiefs and their assistants found sympathising with the Opposition have no business being in government.
But in a swift rejoinder, the Opposition leader said the State administrators ought to serve everybody regardless of their party affiliation because the officers are paid with tax payer's money. Raila argued that chiefs play a pivotal role in mobilising youth to register as voters and they should be allowed to play that role without fear or intimidation so that they can serve all Kenyans equally.
And in an effort to put his house in order, speaking at a separate venue, Raila warned Opposition leaders in Migori of dire consequences if they don't stop their supporters from engaging in needless fights.
Raila who was in Wath Onger in Nyatike where he and Migori County Governor Okoth Obado oversaw registration of voters on Thursday, said he had received names of leaders sponsoring violence at public gatherings in the county.
"We have received names of the said politicians and this is a warning to them, they better stop or the party will disqualify them from the nominations," Raila warned.
The former premier castigated politicians who use funeral platforms to exercise their might and bully their opponents. And there was commotion at the event when irate youth tried to block Nyatike MP Omondi Anyanga and his wife Ann, who is vying for the Migori gubernatorial seat, from accessing the venue.
The couple received a cold reception at the venue as the youth said they were retaliating an incident in which the MP's supporters attacked and injured mourners at a funeral last month.
ODM has been mobilising supporters to register enmass to vote, believing that low numbers cost the party the presidency in the 2013 General Election.
They have also been cases where aspirants hire goons to cause chaos at political rallies, a trend Raila says is giving the party a bad name. The party has now threatened to blacklist aspirants associated with violence.