Highs and lows of dreaded British aristocrat farmer Tom Cholmondeley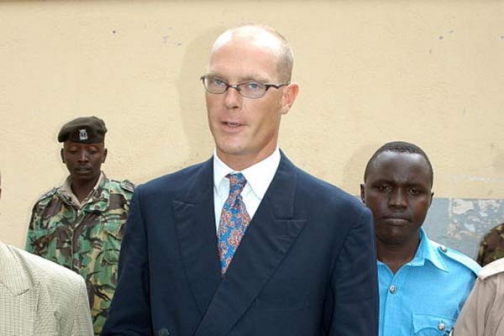 For many Kenyans, August has been considered a jinxed month since independence due to the trail of deaths among prominent Kenyans, including founding father of the nation, Mzee Jomo Kenyatta.
This year was no different. On August 17, controversial British aristocrat Tom Gilbert Cholmondeley died during a hip operation at Nairobi's MP Shah Hospital. His death was as sudden as it was unexpected, but perhaps did not elicit much mourning among Kenyans for the cloud of violence that seemed to surround him.
The aristocrat came from a family with long pedigree and by the time his heart stopped beating, his name had been added to the annals of Kenyan history several times over.
His forbears were founder members of the notorious Happy Valley set, so it was no surprise that Cholmondeley led a life of colourful and sometimes notorious excess.
He was among the last in line in the family of white settler aristocrat, Lord Delamere. He lived to be known as Tom, the only son of his father who was the fourth Baron Delamere, Hugh Delamere.
His grandfather, long dead about three quarters of a century ago (1931), is regarded as one of the pioneers in plantation farming in the Kenyan highlands.
While Tom was a descendant of purely British immigrants, he lived to adapt to the African way of life. His background in agriculture, including working on Kenneth Matiba's Wangu Embori Farm as a manager, stood him in good stead.
Tom, who was said to be over six feet tall, was known for wearing cravats and walking around his expansive Soysambu estate in Naivasha armed with a Luger pistol to scare away any intruders.
As a rancher and wildlife conservationist, he was expected to carry guns. But he would later mistake humans for game.
Before he was thrust into the national limelight in May 2006, when he was arrested for killing Robert Njoya, resident of a village bordering the Delamere family's 50,000-plus acre estate and a no-go-zone for locals, Tom led a reclusive life, separated from his wife and two sons.
GONE HUNTING
That day, Mr Njoya and other villagers had gone hunting at Soysambu when they ran into Tom, who had a Winchester rifle. He was with veteran rally driver Carl Tundo, who was seeking to lease part of the ranch for a bio-diesel and agro-forestry project.
It was alleged that without provocation, Tom shot Njoya and a dog as the others fled. His arrest not only brought back memories of the colonial Happy Valley, where privileged playboys and British aristocrats engaged in all manner of vice, but also triggered a national furore.
Njoya's death was the second killing committed by Tom and it sparked some fear in the 30,000-strong white community that operates businesses and owns big farms in the countryside.
In 2005, Tom was accused of killing Samson ole Sisina, a Kenya Wildlife Service ranger, who had ventured onto his farm to investigate illegal trade in bush meat.
Tom's acquittal in the murder trial may have been a stroke of hereditary luck. In the book 'White Mischief', his grandfather is said to have been charged with killing his lover. Even then, he was found innocent.
In his judgement, Justice Muga Apondi ruled that Tom shot and killed Njoya but spared him death by hanging because a murder charge could not be sustained.
Justice Apondi further said Tom never premeditated the killing as he did not have a grudge against Njoya.
Tom, Lord Delamere's heir, was laid to rest on August 27 at an emotional invite-only ceremony in Soysambu.
He was eulogised by his parents as a "thoroughly good guy" who had great ideas.
Day Judiciary lost one of finest learned friends
Retired Chief Justice Majid Abdul Cockar died at his Nairobi home on the morning of October 31 aged 93. And on the same day in the afternoon, his remains were interred according to his Muslim faith.