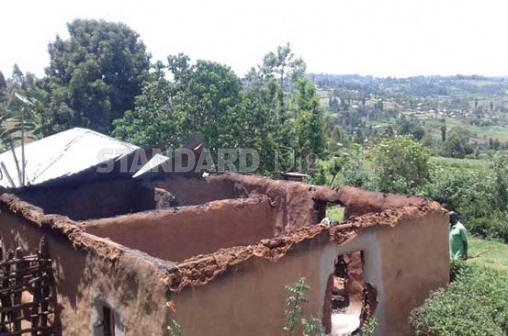 Eight people, including two Administration Police officers have been injured in fresh fight between the Kipsigis and Kisii communities at Ikorongo on the border of Narok, Nyamira and Kisii counties.
One house was torched as the two communities engaged in fierce fighting the whole of Friday night after an alleged theft of cows and one donkey from the Kisii community.
Masaba South OCPD Martha Ngetich said one person has died since the attacks began a few months ago.
The attack comes a day before Deputy President William Ruto visits the area in a bid to solve the concerns raised by the two communities.
The retaliatory attacks come barely two weeks since Kisii County Commissioner Kula Hache and her Narok counterpart Moffat Kangi toured the area and urged the two communities to co-exist peacefully.
The two police officers sustained bullet wounds in an accidental shooting by one of them. The six residents were shot by arrows.
Ngetich said youths from the two communities engaged police officers in running battles for the better part of yesterday.
A contingent of officers from the Administration Police, General Service Unit and Kenya Police were still patrolling the area yesterday. Ms Ngetich said they would camp there until they restored order.
"We expect all the youths to retreat to their communities as we seek a solution to the issues they have raised. This is an area covering three counties and it could be difficult to keep the youths calm," she said.
Ms Ngetich said the victims were rushed to various hospitals, including Kisii Teaching and Referral Hospital.
Peace agreement
Members of the Kisii community said their Kipsigis neighbours had failed to honour an earlier peace agreement.
"We agreed that when cows are stolen from either side, a period of 48 hours should be given to return them. Two cows were stolen on Thursday night and by today we have not got them back," said Rodah Kemunto, a resident, whose house was burnt in the attacks.
Nyaribari Masaba MP Elijah Moindi visited the area yesterday morning, but the residents repulsed him, saying the political class had not done enough to quell the attacks.
Denis Omari, a resident, said the matter needs political leaders to call for a stakeholders' meeting and help solve the emerging issues.
"We need to know the individuals who are behind the planning of these attacks.
"The number of youths involved in the fighting is beyond the total population of the villages here. The security agencies should carry out thorough investigations and arrest the culprits," said Mr Omari.
Residents of four constituencies; Nyaribari Masaba (Kisii County), Borabu (Nyamira), Sotik (Bomet) and Emurua Dikirr in Narok County have been affected by the attacks.
The two communities have had long standing conflicts over land disputes and cattle rustling, with successive governments promising to solve the matters in vain.