Past judgements haunt David Maraga in hunt for CJ job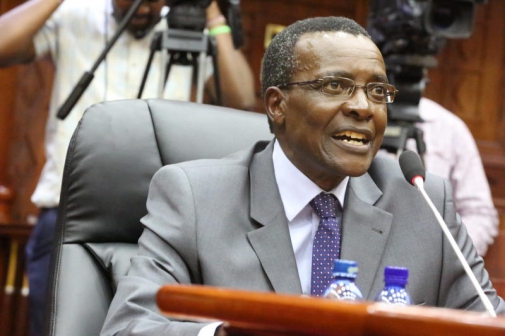 Chief Justice nominee David Maraga Thursday defended himself against allegations he failed to serve justice in two judgements.
Residents of Ainamoi are unhappy Maraga reduced to manslaughter the case against police officer Andrew Moeche who shot dead their former MP Kimutai Too.
Petitioners Edward Kings Onyancha and Samson Ndenderu Kigamba as well as a section of Ainamoi Constituency residents feel Justice Maraga was lenient to Moeche, who killed Too alongside a policewoman.
When he appeared before MPs for vetting Thursday, Justice Maraga was also pressed to explain his decision not to convict anyone during the attack on Kiambaa church at the height of the 2007/2008 post-election violence.
Thursday, members of the Justice and Legal Affairs committee chaired by Samuel Chepkonga (Ainabkoi) took him to task over petitions seeking to block his appointment.
And when the MPs asked Maraga to address himself to the allegations, the judge stood his ground. He said he reduced the murder charge against Moeche to manslaughter after considering the options of self-defence and provocation of both parties.
"The accused was not known to me in any way, if so I would have disqualified myself. I made the ruling based on the law and substance presented before me. If I went with self defence, I would have set him free but under provocation, I reduced the charges from murder to manslaughter," said Maraga.
He said: "I don't subscribe to extra-judicial killings, it was a unique situation where all were having weapons."
Committee vice-person Priscilla Nyokabi (Nyeri County MP) also raised the matter of Kiambaa Church arson case and demanded to know why the suspects were acquitted.
Justice Maraga said: "I handled the Ainamoi Constituency case and that of Kiambaa at the same time. Our judgement is not based on emotions but on evidence and the law. I also lamented over poor investigations. There was no evidence to sustain a conviction."
He was also interviewed on a range of issues including the strategies he will employ to address rampart corruption in the Judiciary.
"There are real and perceived cases... A number of litigants have lost to their opponents and accused judicial officers of graft. I'll push for the strengthening of the office of the Ombudsman to deal with these issues," said Maraga.
William Kamoti (Rabai) and Peter Kaluma (Homa Bay) noted corruption is rampant in the Judiciary.