Your days are numbered as governor, former MP warns Ruto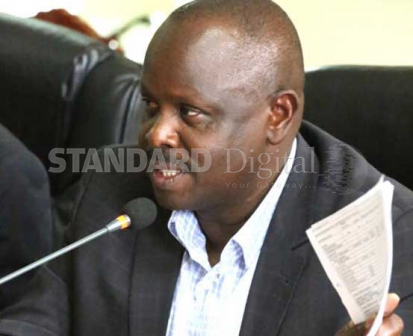 The race for the Bomet govenorship seat continues to heat up, and so far three aspirants have said they will vie for the seat currently held by Governor Isaac Ruto, among them Konoin MP Julius Kones and National Assembly Deputy Speaker Joyce Laboso.
The stakes are so high that on Friday, Governor Ruto (left) differed sharply in public with Kones.
"You defeated me at the last elections but this time round I am in the race to win. Be ready to leave office after the next General Election," Kones taunted.
The two political rivals met at Koiwa Secondary School in Konoin sub county when Unilever was handing over two newly-built classrooms to the school.
Kones said although he lost to Ruto in the last elections, he told the governor he was ready this time.
"Get it from me, your days are numbered as the governor of this county. I will be the next Governor. Do not say I did not tell you when the time for handing over the leadership comes," Kones told Ruto to his face.
But in a swift rejoinder, Ruto told off Kones, and asked him to wait for his turn in the 2022 General Election.
"I have always told you that you should hold on, I only have five more years to complete my two terms and if you want my support you should endorse my bid to defend the seat — after all you are still young politically," Ruto fired back.
The outspoken Bomet County chief said he was ready to marshal his supporters to back Kones in 2022 if he agrees to back him, for now. But an adamant Kones, who is the National Water and Pipeline Cooperation chairman, stuck to his guns and warned Ruto to be ready for a shocker next year.
"2013 was the last time you defeated me and that will not happen again. Do not forget that your win against me in 2013 was questionable."
Kones (right) also took a swipe at Dr Laboso, the Sotik MP, who is keen contest the seat on a Jubilee ticket.
"The race for governorship is a tough one and it needs men to face off, so women should stay aside and leave men to compete," he said.
Laboso last week told off those who have been dismissing her candidacy because she was married to someone who does not come from the Rift Valley.