Song and sea of orange as ODM delegates converge in Mombasa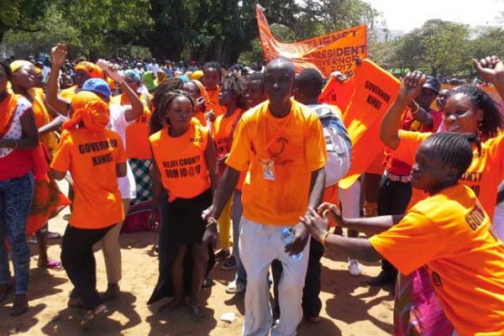 Mombasa, Kenya: ODM party supporters began gathering at Mombasa's Mama Ngina Drive Gardens as early as 7.00am breaking into song and dance and draped in party colours as they waited for party leader Raila Odinga's arrival.
Some youths spent the night at the venue taking care of huge tents erected on site and the music and public addresses that bellowed with songs and dance since Friday. Women, men and youths draped in ODM's orange colours lined streets, corners and thoroughfares singing and dancing songs in praise of Raila and Mombasa governor Hassan Ali Joho who was the host of the party's tenth anniversary festivities.
Security was tight at the venue with armed GSU manning strategic positions. Party security officials manned all entrances assisted by County askaris.
They arrived from far and wide, on foot and by car or branded buses singing and brandishing placards bearing messages of party leader Raila Odinga, deputy party leader Hassan Joho, the Mombasa governor. Organisers claimed that besides delegates from 47 counties there were representatives of certain political parties in East Africa, including Tanzania, Uganda, Rwanda and Burundi.
Enthusiastic supporters and delegates danced to music from local artistes as local traders and activists sold and advertised ODM memorabilia and the party's newspaper –The Kenyan Weekly.
Dozens of ODM leaders including party leader Raila Odinga and several governors arrived in Mombasa on Friday evening for ODM's tenth anniversary celebrations.
According to ODM's director of elections and Campaigns Junet Mohamed, who is Suna East MP close to 100 members of parliament and 15 governors had arrived in Mombasa by Friday. The Standard established the governors in Mombasa include Okoth Obado of Migori, Jack Ranguma of Kisumu, Amason Kingi of Kilifi and others were expected.
"We have 15 governors and over 100 MPs in Mombasa. They arrived yesterday," said Junet early yesterday as Raila met party top officials at the Wild Waters Resort in Nyali.
The Standard on Saturday spoke to some delegates who said they had arrived from Nairobi and Kakamega to demonstrate commitment to the ODM.
An MCA from Kakamega County Assembly Said Hussein said he arrived early yesterday in response to a call by the party leaders.
"We are here to celebrate 10 years of our party's existence and we expect many defectors from the URP and TNA to join us today," Said said and added that he also expected the party leaders to announce a roadmap to capturing power next year.
A youth delegate from Nairobi Ken Maina said ODM has a lot to celebrate ten years for existence "it is the only that has consistently fought for good governance and equal rights including protecting minorities.
He said that despite it challenges "ODM remains the only party with a national outlook" and claimed that the parties allied to the rulling coalition were frantically trying to acquire the same credential "through forceful marriage."
He claimed he has supported ODM for years claiming ODM supports youth participation and empowerment of the marginalized in decision making.
Mombasa was pregnant with expectations since Friday evening as Raila arrived a rousing welcome by party supporters and dozens of legislators who gathered at Moi International Airport to receive him.
Raila addressed several rallies at Changamwe, Saba Saba and Kengeleni in Mombasa before being hosted a dinner to mark ODM's tenth founding anniversary.