Former Athletics Kenya (AK) Chairman Isaiah Kiplagat loses long battle with cancer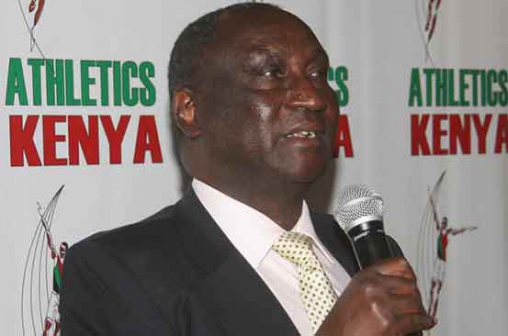 In life, it is not whether you will be knocked down, but whether you have the will to get up and seek revenge, to forgive or fight on.
This is the way former Athletics Kenya (AK) Chairman Isaiah Kiplagat viewed life. In his long tenure at AK, spanning almost four decades, Mr Kiplagat learnt the skills to knock out his challengers and whoever opposed his way has lived with scars as proof of his retribution.
Yet for all that he fought for, protecting with passion the empire he built from nothing to what it is today - a multi-million Athletics Kenya, he has taken his final bow. Kiplagat died yesterday aged 72 after a long battle with cancer.
At the time of his death, Kiplagat was an unwanted person in athletics, the very sport he fought so hard to protect and nurture.
While many will opt to celebrate his life in silence, a few will look on with contentment that indeed, the man they feared, envied, and held in high esteem, the one who ruled their sport with such an iron fist, was after all mortal.
Kiplagat, together with his trusted lieutenants David Okeyo and Joseph Kinyua, were swept out of the federation over a year ago over allegations of corruption and subverting the anti-doping process.
Kiplagat is also accused of accepting, either personally or on behalf of AK, a gift of two motor vehicles from the Qatar Association of Athletics Federations between 2014 and 2015. During that time Doha was bidding to host the 2019 World Championships.
Though the matter is still under investigation by the independent IAAF Ethics Commission, it leaves a tainted legacy on a man who has been credited for bringing professionalism in the management of track and field in the country.
Kiplagat's leadership as the supremo at Athletics Kenya, which is the goose that laid the golden medals at international competition, has led to collision with other stakeholders in the Ministry of Sport, National Olympic Committee of Kenya (Nock) and the Kenya National Sports Council.
It was after all his enthusiasm of how he wanted the sport to be like that had him collide with his peers who opposed his leadership style. Not even sponsors like American sports apparel giant Nike Incl, Eveready, Safaricom, New KCC and the National Bank of Kenya were spared.
No wonder at the time of his departure, AK had in excess of Sh30 million in surpluses in its accounts to stand out as the richest and most vibrant sporting federations in the country.
From a herd's boy in Nandi, Kiplagat went on to serve as a prisons officer, rising to the position of commandant Prisons Service Training College and later served as managing director of PostBank (1999-2002).
His arrival in sports, however, was announced in 1975, when he was elected vice-chairman of the now-defunct Kenya Amateur Athletics Association (KAAA), which was led by Charles Mukora.
In 1976, Kiplagat was elected the secretary general of KAAA, then under the leadership of Sam Ongeri. He was also co-opted into the International Association of Athletics Federations (IAAF) Technical Committee during the Montreal Olympics and served there until 1987.
He then served as an IAAF council member, the highest organ in athletics management until 2014. He was in 1992 elected the new chairman of AKenya, a position he held until a year ago.
In 1999, Kiplagat ventured into motor rallying, becoming the chairman of Safari Rally when the lucrative sport was hogging global attention. He remained at the helm until 2002, the same year Safari rally was knocked off the World Rally Championship (WRC) calendar.
Now he had only one subject to focus on, athletics. He oversaw the building of Athletics Kenya headquarters and also helped it become the first sport to get major sponsorship, securing Eveready Batteries' windfall.
The rest is history.
But in his last years at AK's Riadha House, Kiplagat's friends gang up to oppose his management and wanted to kick him out of the sport. A group of 16 branches together with an association of athletes fought him. It dealt him a brutal dent, but as a man he vowed to firm his grip.
He had his faults, and was accused by the branches of not passing the baton in a relay race in management of the association. But still he waded on.
But when his name was embroiled in bribery and doping scam, it opened a new battle front. It was a different battlefront, one which swept Kiplagat off his feet. He had to step aside.
But as he crosses the finishing line, he knows running a marathon is not how fast you start, but how hard you fight to complete. Irrespective of his faults, his arguments and fights, the love of athletics overrides all that and it is right to honour the legend of athletics as he takes his final bow. Fare thee well Chairman. You ran a good race.
"He transform Kenyan athletics in the duration he was president. Before he came in, Kenya wasn't winning medals as much as it does today. Despite the problems we had in the recent years, his contribution to Kenyan athletics was immense and cannot be ignored. We are praying for the family and the entire athletics fraternity in Kenya," Barnaba Korir, AK Nairobi branch chairman said.
"We have lost a man who has been in the forefront in athletics. Somebody who has made athletics what it is today in this country. He spearheaded the construction of Riadha House, among other milestones. He was such a man who could look and think beyond our borders. The entire Africa, and even the whole world, knew him," Abraham Mutai, the AK Central Rift chairman, said.