Former Cabinet minister Soita Shitanda 's body taken home for last rites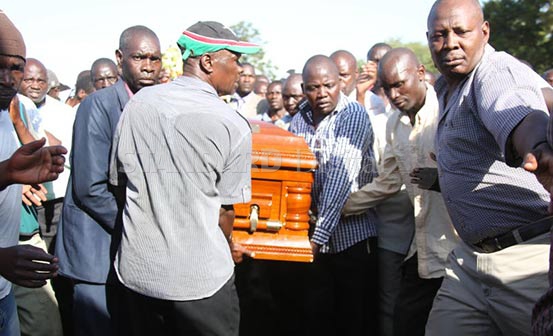 A military plane carrying former former Cabinet Minister Soita Shitanda's body landed in Kakamega airstrip and was met by a huge crowd.
Kakamega Governor Wycliffe Oparanya and MPs Benjamin Washiali (Mumias East), Emmanuel Wangwe (Navakholo), Bernard Shinali (Ikolomani) and Malulu Injendi of Malava were at hand to receive the body on Thursday.
The multitude that had been waiting at Kakamega airstrip milled around the plane, jostling for space to view the body. The former Malava MP's family was also present.
Police struggled to control the crowd before the body was taken off the plane and loaded onto the hearse.
There was a traffic snarl-up all the way from the airstrip to Approved School Grounds five kilometres away where another group was waiting to view the body of the former Housing minister. Also present was Deputy Governor Philip Kutima and local MCAs.
It took close to 45 minutes for the convoy escorting the hearse that passed through Kakamega town to arrive at the venue.
Shitanda's family requested leaders present to reserve their speeches for another time. Oparanya together with his team left immediately after they had viewed the body.
The crowed at the Approved School overwhelmed police officers. They viewed the body in a disorderly manner without following the queue.
Locals blocked the hearse at Malava market demanding to view the body of their leader.
Shitanda's body was later taken to his home in Butali by road. The body was then taken into his house where prayers were conducted before being placed outside for public viewing.
Thereafter, and going by Luhya tradition Shitanda's body was taken back to his house to 'sleep' as elders 'talked' to their son.
A requiem mass was conducted yesterday at the home. Mourners, who included leaders from Kakamega County, were given an opportunity to eulogise Shitanda.
Area politicians, including former Cabinet minister Burudi Nabwera, Lugari MP Ayub Savula, and Kakamega Senator Bonni Khalwale spoke.
According to the chairman of the funeral committee George Malumasi, the speeches were delivered early to ensure today's programme is not delayed.
"We are concerned about time. That is why family members, area leaders and politicians had to speak after the mass so that the Saturday (today)'s programme does not drag," said George.
Yesterday morning, the body was placed under a tent for public viewing. It was not taken back to the house again.