President Uhuru Kenyatta and Turkey's head sign Sh100b trade deals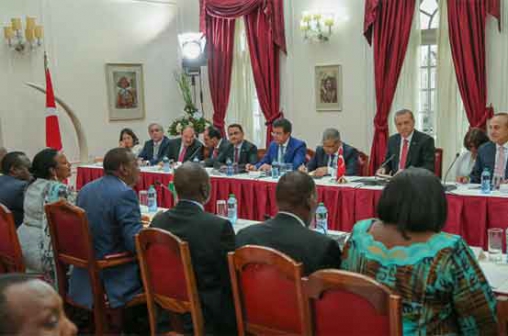 Kenya and Turkey have signed trade deals that will enable the two nations increase their investments to Sh100 billion.
President Uhuru Kenyatta and his Turkey counterpart Tayyip Erdogan signed the deals at State House Nairobi yesterday.
President Kenyatta said he would travel to Turkey in August to ensure the trade deals are implemented.
The two Presidents led their delegations in bilateral talks that sought to deepen ties and boost trade.
"Our talks seek to improve the relations between the two countries that span over a century. More than 10 co-operation instruments have been signed between our two countries," Uhuru said.
"We import many Turkish goods and support the Government of Turkey on a number of initiatives. The ties bonding the two nations have increased from $41 million (Sh4.1 billion) in 2009 to $148 million (Sh14.9 billion) in 2015."
However, the two Presidents concurred that the increase was minimal.
Erdogan said: "We are trading at $144 million (Sh14.5 million). This is insignificant. As soon as possible, the figure should shoot to $1 billion. This is the threshold set."
The Turkish President, who was accompanied by 135 businesspersons, underscored the need for the two countries to sign deals on preferential trade that would cater for double taxation.
"We agreed as a matter of priority to remove any barriers that would prevent our private sector from doing business and as such hasten the signing of double taxation between the two countries and this to be done before my next visit to Turkey in August," Uhuru said.
On the fight against terrorism, Erdogan accused the West of double standards.
Firm stand
President Erdogan said developing countries were struggling with refugee crises as a result of terrorism yet the developed nations were reluctant to take a firm stand that would end the vice.
"It is unfortunate that countries with limited resources are the ones shouldering this burden when wealthy nations, which should do so, are not doing anything. They believe doing so will compromise their foreign policies," he said.
"These nations are non-committal on the issue of terrorism. This to me amounts to double standards and is an issue of injustice. They are yet to submit fully to end it and also address the issue of refugees. There is a crisis, even in Kenya," he said.
"If we eradicate grassroots problems, we will be dealing with reasons causing extremism. We can eradicate global terrorism once and for all if we unite. The situation is the same in Syria and leaders of developed nations must address it."
He said despite their financial and infrastructural muscle, Western nations were doing little to shoulder the crisis. Both Kenya and Turkey have been victims of terror attacks.
DP Ruto loses bid to probe ICC officials
The International Criminal Court has rejected a call by Deputy President William Ruto to have a special prosecutor investigate officers working for Chief Prosecutor Fatou Bensouda regarding their handling of the crimes against humanity cases in Kenya.