Back Kenya's war on ivory trade, President Uhuru urges world leaders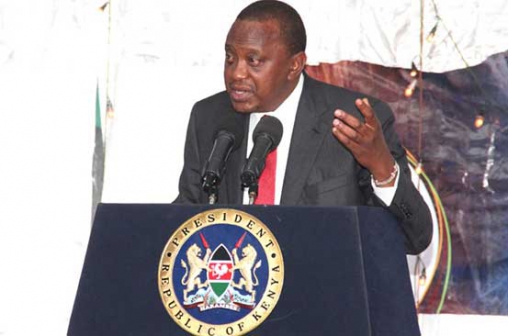 President Uhuru Kenyatta has urged the world to back the country's call for a total ban on illegal ivory trade.
This comes a month after President Kenyatta presided over the burning of more than Sh31 billion worth of ivory.
"Later this year during the Convention on International Trade in Endangered Species of Wild Fauna and Flora conference in South Africa, my Government will seek a total ban on ivory trade ," said the President.
He promised that Kenya would support actionable outcomes agreed upon at the conference and continue supporting the United Nations Environment Programme to execute its mandate to preserve the environment.
The President was speaking yesterday when he officially opened a high-level segment attended by ministers and high-level representatives of over 170 governments at the second UN Environmental Assembly (UNEA 2) in Gigiri, Nairobi, yesterday.
President Kenyatta reiterated Kenya's total war against poaching and illegal trade in wildlife products.
"In April, we held the Giants Summit here and went forth to burn ivory from 8,000 elephants and 100 rhinos. This showed the world that ivory is worthless unless it is on the elephants," he said.
MORE FUNDS
Calls for a paradigm shift, a united approach, more funding and ratification of the Paris Agreement to tackle global environmental degradation dominated the meeting.
President Kenyatta stressed the need for partnerships to address the effects of climate change.
"For the past two decades, we have seen a movement emerge across the world that protecting the environment cannot be a tertiary matter. We must make sacrifices now to leave our children a viable tomorrow," he said.
The President noted that with African countries dependent on agriculture to tackle poverty and unemployment, the continent has more to lose if it acts to conserve the environment and most to gain by mitigating climate change challenges.
"Africa must prioritise environment matters and be supported to achieve its goals towards sustainable development. We have to work together... so that we win as a team or all of us lose," Uhuru said.
He noted Kenya was at the forefront of ensuring sustainable growth and called on the world to help it in its efforts to conserve the environment. "We have taken steps to ensure a sustainable planet. We have invested in renewable energy in wind, geothermal and sun to power our activities. We have adopted a green economy strategy. We call upon our partners to support us in our endeavours to make the world a better place to live in," the President said.
UN Deputy Secretary General Jan Eliasson, who represented Secretary General Ban Ki Moon, echoed President Kenyatta's sentiments for a universal approach to mitigate against effects of environmental erosion. "I am inspired to be here among UNEA member states because decisions made here will impact on the future generations to come," Eliasson said.
He called for a more comprehensive, clear and decisive action plan to tackle environment matters. "We need to safeguard the world and in turn make peace. In 2015, we signed the Paris Agreement for climate change and now we have the sustainable development goals. We now need a transformative agenda to tackle water, sanitation, climate change and human settlement," he said.
South Korea's president to visit Kenya
South Korea's President Park Geun-hye is scheduled to arrive in Nairobi on Monday for a three-day visit. During the visit, Park will sign bilateral agreements with her host, President Uhuru Kenyatta.