President Uhuru Kenyatta gifts low earners tax reprieve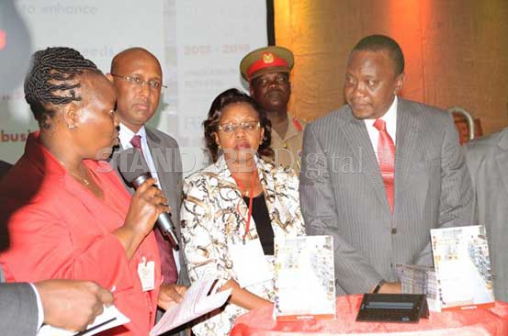 Low income-earning workers have received a late Labour Day present after the government exempted their bonuses and benefits from taxation.
The move comes barely a week after the government failed to increase their minimum wage during Sunday's Labour Day celebrations.
Announcing the new measures yesterday, President Uhuru Kenyatta said he had already issued a directive to the Treasury to effect the measures in the 2016 Finance Bill.
He said under the Bill, low income workers would be exempted from taxation on any payments of bonuses, overtime and retirement benefits.
"This will be done in a manner that does not place an additional burden on employers or increase the cost of employment," he said.
This, President Kenyatta said, will cushion low income workers as the government strives to improve the living standards of Kenyans.
The President spoke during the opening ceremony of the Employers Summit held at Enashipai Spa in Naivasha. Representatives from 16 African countries are attending the summit.
The President said employment continues to be the biggest challenge facing Africa, with the youth, who account for 70 per cent of the population, being the most affected.
"The crisis of mass youth unemployment is a threat to the stability and prosperity of Africa and it can amount to a fundamental and existential threat as well," he said.
Uhuru said unemployment demands urgent attention and requires the input of all stakeholders.
"Let's create more goods locally and export them internationally so that we have the kind of dynamic manufacturing sector that employs millions of people," he said.
Income rise
The President said the continent had made strides with significant rise in incomes and emergence of a stronger middle class over the years.
"Many countries have demonstrated an unparalleled resolve to solve and mitigate the challenges that historically crippled them from corruption to insecurity," he said.
Regional International Labor Organisation (ILO) coordinator Chapinga Chuma identified infrastructure as one of the major challenges facing the continent.
Mr Chuma said majority of African governments had committed less than 10 per cent of their GDP to infrastructural development.
"Apart from the issue of poor roads and railway lines, the continent has a challenge of skilled workers," he said.
Federation of the Kenya Employers (FKE) chairman Linus Gitahi said power and infrastructure are key in attracting investors.
"The private sector players are ready to partner with the government to address the issues of unemployment and investor confidence in the country," he said.
Italy rescues nearly 1,800 migrants in Mediterranean
Italian vessels have helped rescue nearly 1,800 migrants from boats trying to reach Italy from North Africa in the last 24 hours, the navy said on Friday, indicating that numbers are rising as the weather warms up.