Firms to sue Uganda over newly introduced goods clearing system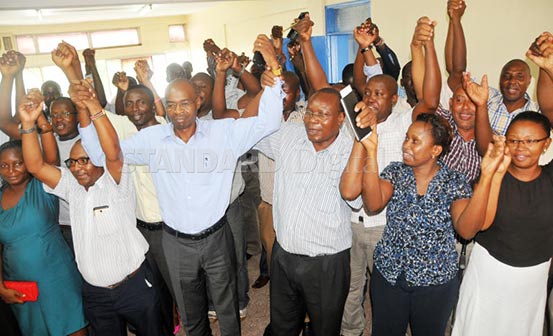 Over 1,500 firms have threatened to move to court to oppose a new electronic goods clearance system introduced by Uganda.
The clearing and forwarding firms want Ugandan authorities stopped from using the system in clearing motor vehicles and steel at the Port of Mombasa.
They said the technology has denied them transit business for the last four weeks.
The firms under the Kenya International Freight and Warehousing Association (Kifwa) said the implementation of the new system under the Single Customs Territory (SCT) will render 40,000 Kenyan agents redundant as they cannot clear Ugandan cargo.
The agents demanded that the entire clearing and forwarding industry in Kenya be brought on board in terms of quality training and given uninterrupted access to the Uganda-based and controlled Asycuda clearance system so as to ensure a level playground for all users across the region.
Before Asycuda was implemented for Ugandan motor vehicles and steel, Kenyan agents used to clear the cargo on the Simba system run by Kenya Revenue Authority (KRA).
Uganda is the leading transit market for the Port of Mombasa as it imports more than 3,000 vehicle units a month.
Clearance Hurdles
Kifwa Chairman William Ojonyo yesterday, said more than 1,500 motor vehicle units destined for Uganda are stuck in different Container Freight Stations in Mombasa owing to clearing hurdles on the Asycuda electronic system.
"We have no option but to move to the justice system because, Asycuda has locked us out of transit cargo business with Uganda. It has suddenly shifted ground in favour of Ugandans," Mr Ojonyo said.
He called for an harmonised customs tariffs and electronic system for cargo declaration similar to that of the European Union to ensure smooth customs administration within the SCT area. The current system, he said, does not function.
He said about 135 Kenyan agents had been trained on how to use Asycuda but only five per cent of them, mainly multinationals with offices in Kenya and Uganda, had access to the system run and controlled by Uganda.
Kifwa Mombasa branch Secretary Bernard Simiyu said the new system had caused arbitrary loss of businesses for Kenyan agents and called for urgent intervention to ensure SCT served East African Community partner states equally.
"The new system has arbitrarily taken away our jobs. Why have a system that destroys businesses?" he posed.
A Kifwa member, Esther Wangoi, said no single Kenyan had managed to use the Ugandan system.
"Kenyans have been completely blocked from transacting on Asycuda. The system is constantly down and cannot be accessed from Kenya even though the same is easily accessed from Uganda. There are only two Uganda Revenue Authority customs officers in the entire port to do verification of cargo destined to Uganda," she said.
Ms Wangoi said the training of agents on Asycuda had been erratic after being rushed through, and most agents had not been issued with passwords for the system one year after undergoing the training.
Another agent, Thabit Abeid, challenged the Government to protect local agents from being denied business by their Ugandan counterparts through the new system.
"We are appealing to President Uhuru Kenyatta to intervene and ensure the SCT was reviewed to ensure a level playground among agents in all member states," he said.