The unsung hero who rescued and hid 37 students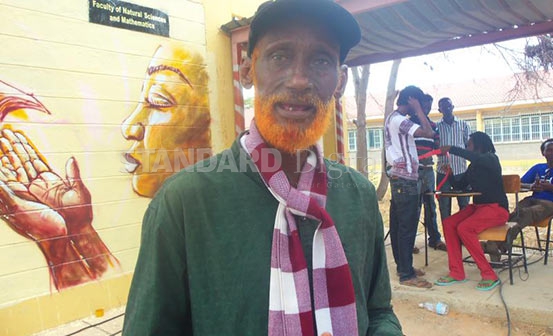 As Garissa University College marked one year after the Al Shabaab attack in which 148 people were killed, Ibrahim Aden Alhaji stood out as the unsung hero of the tragic event.
Alhaji (pictured right),whose homestead is just four kilometres from the college, played good Samaritan during the heinous attack when he rescued 37 terrified students and hosted them in his house until they were rescued by security officers.
During yesterday's event, Alhaji, 57, watched from the periphery as no mention of him was made in an event that lasted about seven hours.
For him, it was the case of a prophet not being recognised in his home village but being acknowledged elsewhere.
"God is the one who pays. This morning, I talked to some of the students I rescued. Some of their parents call me from as far as Lamu and Njoro to thank me for what I did," he said.
The community social worker said when the attack occurred, he was attracted by screams from the students as gun fire rent the air. Being a neighbour, he went to investigate.
Big day
When he got to the university wall, some half naked male students who had scaled the wall informed him of the attack. He helped them climb Mathenge trees and jump over the fence. Female students still trapped inside the university compound could not jump over.
That is when he decided to dig under the wall to create an escape tunnel. Thirty seven of them escaped through that opening. "For hours I hosted them in my house. I also got clothes for some of the female students who were almost naked," he recalled.
Despite missing from yesterday's programme, Alhaji said he was happy and at peace with what he did. "This is a big day for me. I'm a peace maker. I feel happy that the university has re-opened," said the father of eight grown up children.
"Terrorism can be defeated as long as the communities are willing to volunteer information to security organs," he told us while showing us a text message sent to him last year by Prof Ahmed Osman Warfa, the college's principal, thanking him for his good deeds.