Activist seeks to slam brakes on Tunoi probe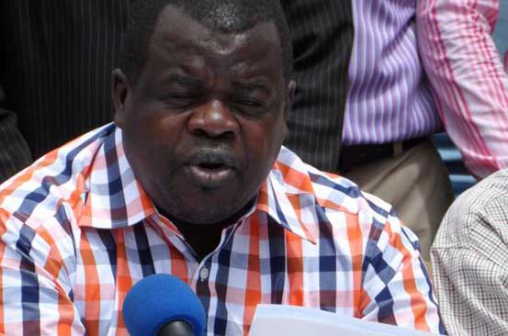 A tribunal formed to investigate Supreme Court judge Philip Tunoi may not begin its work as expected.
In an application filed under a certificate of urgency at the High Court Thursday, Okiya Omtatah wants temporary orders suspending the tribunal's operations until a qualified person is appointed to head it.
The activist accused President Kenyatta and Attorney General Githu Muigai of accepting the appointment of Sharad Rao, knowing he was not qualified to sit in the tribunal.
Mr Rao, who chairs the Judges and Magistrates Vetting Board, was sworn in on Wednesday to head the seven-member tribunal that President Kenyatta appointed last week.
Other members of the tribunal are judge Roselyn Korir, Judith Guserwa, James Kaberere, Abdirashid Hussein and George Wakukha.
The team is investigating claims that Justice Tunoi took a Sh200 million bribe from Nairobi Governor Evans Kidero to influence the outcome of an election petition filed by Kabete MP Ferdinand Waititu.
Both Tunoi and Dr Kidero have since denied these allegations which were brought forward by whistle-blower Geoffrey Kiplagat.
"The President has violated article 168(5)(b)(i) of the Constitution because Rao is not a judge of superior court, has never been a judge of superior court and not qualified to be judge of superior court," Mr Omtatah said in court documents.
Rao, who once served as a Deputy Public Prosecutor in the Office of the Attorney General, does not qualify as a judge as he is more than 70 years old.
"Him accepting the appointment knowing very well that he is not qualified, he violated articles 168 (5) (b ) (1) which declared that the tribunal shall consist of a chairperson and three other members from among persons who hold or have held office of a judge of a superior court or who are appointed as such," Omtatah said.
Omtatah said Rao's appointment should be nullified as it contradicts the supreme law.
"The court has both the duty and the jurisdiction to stop the blatant disregard from the rule of law and other violations and threats of the Constitution," the activist said.
Given the gravity of the issues he is raising, Omtatah said it would serve in the public interest to have the case heard on priority basis.
He said unless the case is heard and determined, the rights and fundamental freedoms of Kenyans will continue to be violated.
The President, Attorney General and Sharad Rao are the respondents in the petition. Justice Joseph Onguto will hear the matter today.
Leopards' new coach off to winning start
Ivan Minnaert enjoyed a winning start to his career as AFC Leopards head coach after the 13-time Kenyan champions registered a 1-0 victory over Bandari on Wednesday night.