Suspect linked to University of Nairobi lecturer Prof Stephen Nzuve's killing arrested
Police have arrested a man in Eldoret in connection with the death of University of Nairobi lecturer Stephen Nzuve.
Cyrus Mutunga Masaku, an alleged veterinary officer, was arrested by Directorate of Criminal Investigation officers at Kapseret centre on the outskirts of Eldoret town yesterday afternoon.
The officers tracked the 30-year-old through information circulated on a WhatsApp group called 'Matungulu Group' that linked him to the killing of Prof Nzuve.
The message in the WhatsApp Group read in part: "We as the residents of Tala mourn the death of Prof Stephen Nzuve but we have the suspect. Security starts with you and me. We remember Mpesa, petrol station and several shops that were robbed months ago here in Tala by a fake veterinary doctor."
It continued: "This is the time we speak and help the police arrest this young man. The man, in this group, is one of the suspects of the killing. He has no permanent room this time round. He was seen taking beer at Broadway with his accomplices before riding on a motorbike towards Nzuve's gate."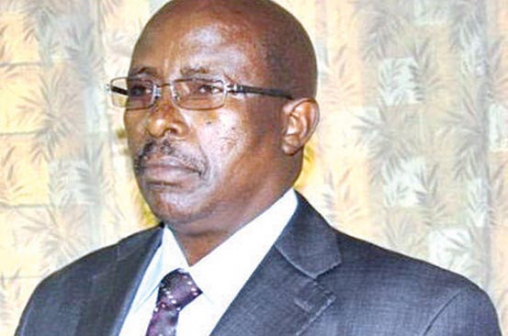 Nzuve was shot in cold blood last week on Saturday in his sitting room by a gang of five that had terrorised him and his family.
The gang escaped with three laptops, an unknown amount of money and other valuables. Police say the gang forced their way into the house after waylaying Nzuve at his gate.
He had apparently escorted visitors, who were in his house, to the nearby shopping centre and was on his way back to the house when he was attacked.
According to Julius Rutere, the County Criminal Investigations officer Uasin Gishu County, "Police officers from Kangundo police station using phone tracking devices noted that the suspect was near Eldoret town and informed us at 7am."
"In quick response, we tracked him to the outskirts of Eldoret town after 10 minutes. We called him and told him that we wanted to talk with him at the police station and he complied. We kept tracking him lest he escaped," said Rutere.
Rutere said their counterparts from Kangundo informed them that they had followed the text message on the Matungulu group and decided to investigate Masaku.
Rutere said the suspect surrendered himself to the station on Tuesday afternoon and upon interrogation, they found his statements to be contradicting and this prompted the police to hold him for the night as they continued with investigations.