Kenyan Catholic priest on death row speaks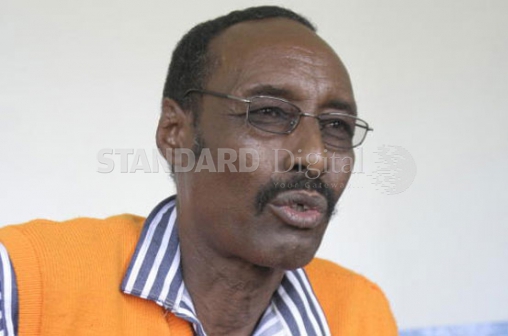 A Catholic priest on death row is what they call you out there. Father, kindly tell us about your journey to priesthood
I am 57 years old today, but back in the day, when I was a young boy growing up in Isiolo, I was so influenced by the life of a foreign missionary priest called Father Pio Bono who was the first missionary in my village. One day, I asked Father Bono whether I could also be a priest. He said yes and gradually guided me as a young boy, took me to the seminary and that is how I ended up being a priest.
I went to Gregorian University for my Masters in Philosophy and the London University in 1999 for my PhD in Philosophy. I have worked in parishes in Italy and London where I was attached for pastoral work during my studies.
Looking back, any regrets being a priest?
No. I am proud of myself. I have no regrets whatsoever. My father died when I was in Europe doing my pastoral work. My mother collapsed and died on the day when I was sentenced to death. She could not take the news.
What went through your mind when you were sentenced to death?
I felt abandoned. I felt rejected by fellow priests whom I thought could be close to me. You know, the irony is that priests from Europe and in America came immediately to see me but my beloved colleagues and brothers who are just next door have never come to see me in prison. Not even my Bishop from Isiolo. It has been terrible. I have written letters to both the Cardinal and the Apostolic Nuncio. I never heard from them.

Do you think God planned this for you?
I do not know whether this was God's plan. All I know is that it has happened to me. You know, I spent close to 10 years in remand when the case was ongoing. The first person to visit me was his grace Archbishop Ndingi Mwana' Nzeki. He came twice even when he had retired. I also remember Bishop Philip Anyolo too came and encouraged me to be strong in the Lord. I remain very grateful to the two. My message to Bishop Anyolo is that I have kept the faith. The temptations within these walls will never change me. Tell Bishop Anyolo that I still remember what we talked about and just like Sigmund Freud, my dream is to conquer prison, not to be conquered by prison.
If God gives you a second chance, would you still become a priest?
Yes. I would still want to be a priest. I will remain a priest forever and I am prepared to die a priest and I am sure that when that day comes, they will write on my grave, "Fr Malley".
What are some of the challenges that current priests face in their line of duty?
As a priest in Kenya, the challenges are just too many. I feel that the greatest challenge comes from the vow of celibacy; this thing about marriage should be made optional. I am entitled to my opinion and I believe that either way, there is no need to live a lie.
Since being sentenced, do you still practice Catholicism?
I do go for confessions, I attend Mass when a priest comes and just live my life like any other Catholic out there but make no mistake... here, we just eat to keep us going... Kenyan prisons are hell on earth especially when you are condemned.
How is it behind prison walls?
On my first day, I almost gave up. There are two blocks reserved for the condemned so, I was first taken to a place that was too full and the people there were not very friendly. I asked the officer in charge to have mercy on me, so I was taken to the second block where I stay with inmates who are not so stable mentally. It is much better and I thank the officer in charge for the opportunity to help these old people. I also teach in the prison academy as a high school biology teacher.
How do the inmates take being with a man of God?
They call me Father and some call me teacher. It feels so good that even the prison officers still respect me as a priest and call me Father... I have also been approached by other denominations like the SDA, and my Muslim brother here to join them, but I am a Catholic and will remain so... Like the apostles of Jesus, I will not leave my God. I am very strong in my faith.
The Catholic Church runs various programmes that deal with prisoners. Have they visited you?
Not at all. What I have had is visits from individuals who come in their own volition but not the church. Save for family, other people just don't care. I am also writing a book and today I have already completed the manuscript. I hope that one day I will live the dream of having some of my works published.
Do you feel neglected and left for the dead?
Absolutely, and now that the Pope is coming, if I were to have a chance to talk to him, I would ask the Holy Father for forgiveness.
What do you think about Pope Francis and his visit to Kenya?
It is very good to be visited by a Pope as great as Papa Francis and I believe that his presence could change the way certain things are done in this country, especially in the Catholic Church.
If today, you walked out of prison, what would you do?
I would still want to serve the church in my capacity as a priest if they allow me. Maybe I would serve the prison as a priest because I have seen a lot of challenges that people in prison go through.
There are people who believe that you are where you rightfully belong...
I am not against them and as a priest, I have forgiven even those who fixed me. There are people who worked so hard to see me locked here. I have no hard feelings. To my fellow priests, the doors of Kamiti are not closed. All I ask for is visitation.
There are always prisoners mooting an escape plan...
Even if I get the chance, I would never leave unlawfully. I am not in search of an escape because I believe that I am innocent and my appeal is in the courts, and I will one day walkout a free man.
What is it that keeps you going?
A living dog is better than a dead lion.. To be alive is a miracle. There are so many people who die in prison. There is an old man who I live with here in prison, he has spent 42 years in prison and today he is the oldest prisoner in Kenya but he has not lost hope!
Suppose you were to face the hangman tomorrow...
I would go majestically. I would not be blindfolded. No. I would want to see every step that I take. With my eyes wide open, I would face my killer.