Kamiti inmate escapes from hospital despite being on police watch, chained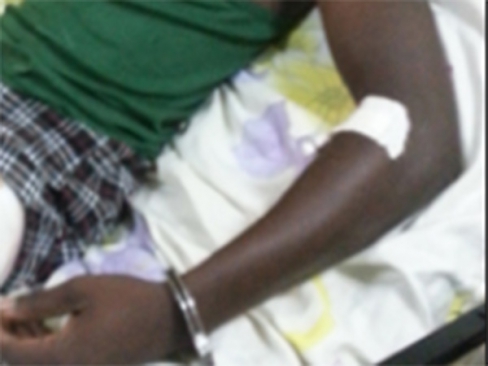 Nairobi, Kenya: Correction officers are still trying to unravel the circumstances under which a Kamiti Maximum Security Prison inmate escaped from hospital.
The inmate who had been admitted at the Kenyatta National Hospital (KNH) on Monday last week is said to have had a broken arm and was under the surveillance of prison officers.
William Muiruri Meta, who was serving his 14-year jail term for robbery with violence, had allegedly been badly beaten up by an officer in the prison and was taken to the hospital.
He disappeared from hospital on Thursday night last week even though he had been handcuffed and his legs chained. "The inmate had been roughed up by a chief inspector of police and he sustained serious injuries to his arm. After being taken to Kenyatta National Hospital on Saturday, he was told to go back on Monday and that is when he was admitted," said a source that sought anonymity for fear of reprisal.
Apart from the broken hand, Mr Meta is said to have suffered injuries to his left kidney.
After learning of the incident, Meta's family sought justice from the Kenya Human Rights Commission.
"I fear that officers that were with him at the hospital were responsible for arranging the escape," said the source.
The Officer in Charge of Kamiti Maximum Security Prison Henry Kisingu, accompanied by family members, had reportedly gone to visit the inmate the day before his escape.
CANCER TREATMENT
But, Mr Kisingu said Meta, who hails from Kabati in Maragwa, had gone to KNH for cancer treatment.
"Meta was serving his 14-year sentence after being convicted by a Thika Court. The five officers that were securing him consisted of four constables and one corporal and were either negligent or sold him," said Kisingu adding the five officers have since been interdicted and are awaiting trial in court.
He said the incident is not the first of its kind. In June 2013, an inmate at Kamiti allegedly escaped but was shortly arrested outside the perimeter wall. The second time the same inmate managed to escaped, he was arrested in Busia. After the arrest, the officer responsible was promoted.
"It seems as if their deal turned sour prompting the officer to re-arrest him," claimed the source.
In May this year, three other inmates that were serving life imprisonment were able to escape from the institution and their whereabouts are still shrouded in mystery.
According to Kenya Prisons Commissioner General Isaiah Osugo, who had spoken to the media earlier on in the year, a woman who was driving near the prison was caught in the chase and accidentally shot and injured.