Kenyan schools ordered to display cash audit reports
The Government has directed secondary school principals to display their institutions audited accounts on school notice boards as a strategy to promote transparency on public funds.
Education Cabinet Secretary Jacob Kaimenyi told the heads of learning institutions to ensure the directive was adhered to.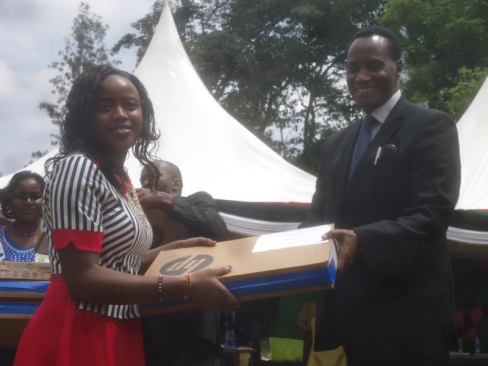 Speaking at Kahuhia Girls High School's prize-giving day on Wednesday, Prof Kaimenyi said education officers must monitor the schools and ensure the guidelines are fully implemented.
Parents cheered
Parents and students at the function cheered the CS as he also spelt out the measure while teachers present murmured in disapproval.
Some of the teachers later claimed the new directive required wide consultation to ensure students are not incited into cases of unrest.
On utilisation of resources, the CS regretted that many of the schools were in a pathetic state despite allocation of vast sums of money towards renovation of the buildings.
"We have noted that many buildings in schools are in a pathetic state despite the administrators of learning institutions annually allocating funds to facilitate renovation," said Kaimenyi.
The CS said he had also banned mock examinations as they were found to be a conduit for siphoning funds from parents.
Senate Deputy Speaker Kembi Gitura, who was also at function, called for students to be taught to have morals and to shun smoking and alcoholism.
"It is high time the students are taught behaviour that will promote excellence in school," said Gitura.
Murang'a Secondary School Heads Association Chairman Willie Kuria pleaded with the Government to help avert the planned teachers' strike, which is set to coincide with the start of the third term.
"The Government should resolve the crisis," said Kuria, who is also the principal of Murang'a High School.
Kenya Music Festival showcases nation's cultural variety
At one corner of the large compound of Kisumu Boys High School, a group of young boys from Borstal School, Shimo la Tewa Prison, is rehearsing a song on behaviour change that depicts how far they have come in mending their past ways and looking forward to a great future.