Spectacular reception for son of the soil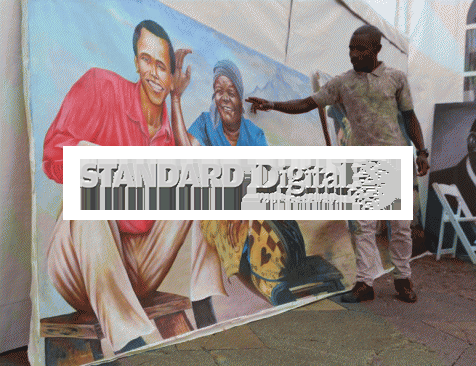 Today we begin our extensive coverage of the historic visit by US President Barack Obama, whose Air Force One touches down at Jomo Kenyatta International Airport this evening.
It is a return that is in stark contrast to his last visit when he was a lowly US Senator. Today, as the Commander-in-Chief of the US forces, Obama brings the full might of his powerful office to bear as he follows the dreams of his father, Barack Obama Senior.
It is possible that he only fleetingly recalls the time a Nairobi hotel's staff ignored him because he was black, or the dismissive stance of a former Government spokesman who once labelled him "an inexperienced young man who could not teach Kenya how to manage its affairs".
The dismissive words have faded into nothingness as he heads into his final year in office. It will be a nostalgic visit for Obama, whose first trip to Kenya in 1988 had stunning experiences. Then Obama lost his luggage after alighting from a commercial flight. His troubles piled up when a Volkswagen he rode in alongside his sister broke down along Uhuru Highway.
A spectacular reception awaits him today. The airspace will be closed for 50 minutes prior to the touchdown of Air force One and the roads will be clear of traffic.
The Global Entrepreneurship Summit (GES) will bring together 1,400 participants among them top business leaders. "We have the opportunity to learn from the experience and expertise of some of the world's top business development experts and leaders, and to share with them our own achievements and success stories," said President Uhuru Kenyatta.
"As entrepreneurs, we will have the chance to meet them in sessions, to pitch our ideas and grow the scale and impact of our enterprises. Investors will find opportunities for decent returns in some of the world's cutting-edge, innovative and responsive solutions to shared challenges," he added.
The US leader's visit to Kenya has elicited much excitement, given his personal connection with the country that is his father's birth place.
On hand to welcome President Obama is his host President Kenyatta, who has publicly acknowledged the importance of the visit that has turned the global spotlight on East Africa's economic power house.
The US leader will hold bilateral talks and dine with the Kenyan President, a development seen as rapprochement considering President Obama's administration had been viewed as hostile to the Jubilee government.
Obama skipped Kenya during his African tour in June 2013, three months after President Kenyatta and his deputy William Ruto were sworn into office, and speculation was that the reluctance stemmed from the fact that the Kenyan leaders were facing charges at the ICC.
With 16 months left in office, President Obama's visit, though styled as attendance to the GES, has huge political symbolism.
Strengthening of security on the back of Al Shabaab terror threats and economic ties (Kenyan exports to US totalled Sh30 billion last year) will rank high on the agenda for the two leaders, but governance issues including war on corruption will also feature. "Our textiles find a ready market in that country; our natural heritage brings many American visitors each year. Of course, there remains scope for better, more diversified, trade and investment in energy, in technology, and in manufacturing," President Kenyatta said recently.
President Obama and his host will on Saturday address the GES, the first to be hosted in Sub-Saharan Africa, at the United Nations offices in Nairobi.
The US President will give a public address at Kasarani Stadium, speak to students at Kenyatta University before his departure on Sunday to Ethiopia.
The White House explained First Lady Michelle Obama and his daughters will not travel with him. At the White House press briefing yesterday, Obama's senior advisor Susan Rice cited a busy summer schedule for the rest of the family.
A trip to his father's village of K'Ogelo was also ruled out as the White House cited time and logistics constraints for his schedule. Instead, he will have private meetings with relatives in Nairobi. "I do believe he will have some time to spend privately with his family," Rice confirmed.
Rice added that other members of his extended family would be invited to some of the president's public events. "Just as anybody is curious about their heritage, visiting Kenya provides him an opportunity to make that personal connection," Valerie Jarrett, a senior aide and family friend of Obama, said in an interview published by Reuters.