Evans Kidero, Boni Khalwale supporters clash outside Milimani Law Courts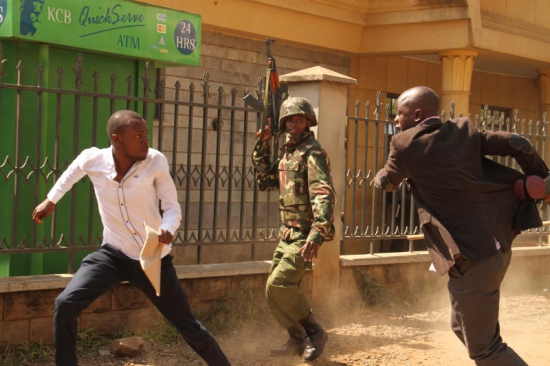 Nairobi, Kenya: Chaos erupted at the Milimani Law Courts after supporters of Kakamega Senator Boni Khalwale and Nairobi Governor Evans Kidero clashed.
The two opposing sides hurled stones at each other and it took the intervention of law enforcers to restore peace. This is the second time the rowdy youths supporting the rival politicians have brought drama to the courts.
On Thursday, Khalwale had to seek refuge at a public washroom to avoid being beaten by youths allied to Kidero.
They were in court to await ruling on Khalwale's bid to lift a gag order restraining him from making remarks linking Kidero to Mumias Sugar Company and its financial woes.
High Court Judge Joseph Sergon issued fresh orders stopping Khalwale from making inflammatory remarks against the Nairobi Governor.
Justice Sergon said the court had found that Kidero through his lawyer Tom Ojienda had made an attempt, however unsuccessful, to serve the Senator.
Khalwale had argued in court that he was not served with the gag order within three days as is required by the law. If the court's orders are not served within the stipulated time, he said, then they are deemed to have elapsed.
Kidero on the other hand, told the court that serving the senator was an impossible mission as the service of the documents at the Senate was rejected.
Justice Sergon issued the first gag order after Kidero went to court aggrieved by Khalwale's remarks that linked him to the financial problems at the sugar firm.
The Governor had asked Khalwale to issue a public apology but the senator turned a deaf ear. He then filed the defamation case saying the remarks by the senator had injured his standing among members of the society.
"Unless stopped, I am apprehensive that my reputation will be irreversibly tainted and lowered in the estimation of right thinking members of the public and I will suffer irreparably," the governor stated.