Joy after successful surgery on baby born with exposed brain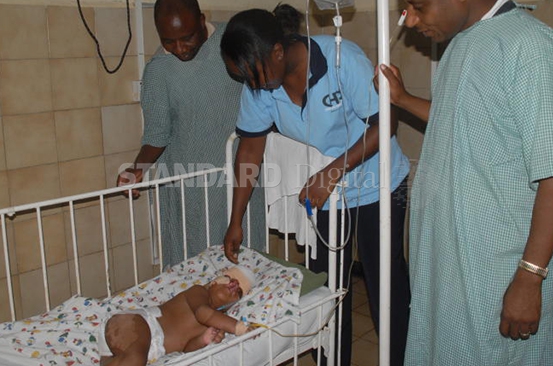 Kenya: Five neuro-surgeons; a facial expert, a plastic surgeon, an anaethesiologist and a medical doctor from Consolata Hospital, Mathari in Nyeri successfully conducted a five-hour delicate surgery on baby Brian Gitau, who was born with brain outside his skull.
Gitau was born with a condition known as anencephaly on December 18, 2013, which causes multiple defects, especially on the brain.
After a media campaign, in which The Standard Group was actively involved, Kenyans helped in a fundraiser after the hospital announced they would require Sh2 million to facilitate the surgery.
And on Thursday, the medics, led by Dr Peter Wanyoike and Mahmood Qureshi, a consultant Neurosurgeon, conducted a successful operation on the 19-month-old baby.
The operation involved two surgeries; one to rectify the condition of the brain, and the other to reform defects on the face.
"The first surgery was conducted by neurosurgeon and plastic surgeons, while the second was for maxillofacial and plastic surgeons," said Wanyoike shortly after the surgery.
Baby Gitau had an enlarged growth on his head's crown, which the medics claimed contained part of his brain that the baby did not need.
"The principal rule in neurosurgery is that you must not force anything into the brain, and we had to remove that part. That was the first phase of the surgery. We will still monitor and conduct subsequent surgeries on him," said Wanyoike.
Dr Emily Nyamu from Nyeri Provincial General Hospital led the team of cleft lip surgeons, charged with rectifying deformities on Gitau's face.
Consolata Mission Hospital was filled with joy after word went round that the doctors had performed a successful operation.
The community in the hospital had been praying for the baby (known in Catholic Church as Novena).
Father Martin Ndegwa, the Chaplain, said that before the operation, they held an adoration mass dedicated to baby Gitau and the surgeons.
"We devoted the baby and his medics to God. We are delighted that the operation has been successful. We ask the entire nation to pray for baby Gitau's quick recovery," Father Ndegwa said.
The hospital's Chief Executive Officer Bernard Mureithi noted they will continue offering necessary support to baby Gitau, saying: "He is our baby, and we want to announce that the mother is also ready to take over her son, but we will retain him for a while to monitor his progress and offer any other necessary support".