Stop ethnic violence and tribalism, First Lady appeals to Kenyans
COUNTIES
By PSCU | July 3rd 2015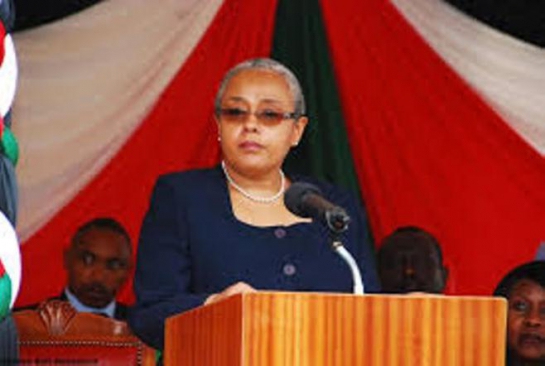 Nairobi, Kenya - Recent cases of violence and killings in some parts of the country should never be allowed to happen again, First Lady Margaret Kenyatta has said.
She said such incidences hurt the country by widening the gap of animosity between Kenyans of different ethnicities.
"The recent incidences we have witnessed where fellow Kenyans raised weapons against other Kenyans, destroying lives and property must come to an end," she said.
Former Speaker to the National Assembly Francis Kaparo who also spoke during the occasion, pleaded with Kenyans holding illegal arms to lay down their guns and bullets and instead engage their "mouths and brains" for a better Kenya.
"But let us keep our tongues civil to keep Kenyans together," said the former speaker.
The two spoke during a breakfast prayer meeting jointly organised by the National Assembly Lady Spouses Association (NALSA) and the National Cohesion and Integration Commission (NCIC). The latter is chaired by Kaparo.
NALSA (K) is a non-partisan, inter-religious and inter-cultural association of spouses of Members of Parliament whose objectives include uniting Kenyans, restoration of national values and providing a supportive role to MPs towards constituency improvement and growth.
NCIC is a statutory body mandated to facilitate and promote equality, good relations, harmony, and peaceful co-existence amongst Kenyans.
The First Lady who is the patron of NALSA said Kenyans are determined to live together as one nation irrespective of the different social, religious, political and cultural affiliations.
She praised NALSA for its efforts to unite Kenyans and working towards breaking down suspicions and other stereotypes that bar citizens from living together harmoniously.
"As your patron, I fully support any measures that NALSA takes towards the restoration of national values", she said.
The First Lady expressed her satisfaction that NALSA plans to roll out a series of nationwide programmes aimed at strengthening patriotism, morality, ethics, religious values and common standards expected of all Kenyans.
"We cannot continue to boast of a fast growing economy, but forget to nurture the people who will run the nation in the future - the youth", said the First Lady.
On his part, Kaparo said there was no bigger agenda in Kenya today than that of "securing Kenya from each other, from external aggression and making the country to be at peace with itself."
He said tribalism and ethnicity are the greatest challenges threatening to tear the country apart.
"Kenya must cease to be a geographical expression and instead become a nation-state", he said adding that Kenyans need to be re-schooled to stop thinking on tribal lines.
"Tribalism will break Kenya", said Kaparo in his booming voice.
He called on Kenyans to stop talking "to each other and instead start talking with each other" through messages of peace, brotherhood and unity.
He said for the last 10 months his commission has been in office, he had found his work to be the most difficult compared to his former duties during his 15 years as the Speaker.
As a result, the commission is now seeking the assistance of the National Council of the Churches of Kenya (NCCK) and the Kenyan Scouts to unite Kenyans.
"This job (to unite Kenyans) is bigger than terrorism, he said, adding no single person or institution can do it alone.
NALSA chairperson Jackie Kiaraho said some of the challenges that her organization is currently concerned with include immorality and public indecency among Kenyans, breakdown of family values and rampant incidences of violence related to cattle rustling in some parts of the country.
NCIC Vice Chairperson Ms Njeri Wanyoike said the country cannot realize peace in its totality without the involvement of women.
She said women must be "at the negotiating table" at all levels of peace building.