Don Moen in Mombasa for two days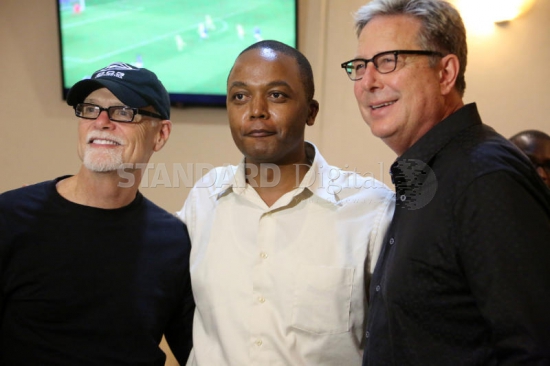 Celebrated American gospel singer and pastor Don Moen jetted into Mombasa's Moi International Airport (MIA) on Wednesday night ahead of his two-day 'Worship at the Gates' event at KPA Mbaraki Sports Club Friday and Saturday.
Mr Moen said he is not scared of visiting any nation including those plagued by insecurity and Western travel advisories. Born Donald James Moen, the televangelist was accompanied by his wife Laura and fellow artist Lenny Leblanc.
"It feels great to be here. We have tried to get to Kenya for the last five years. This time round our prayers were granted," he told The Standard at the airport's VIP lounge moments after his arrival.
Security was beefed up at the airport. Administration Police and officers from the Mombasa County Inspectorate escorted Moen and his team out of the airport to the Mombasa Serena Beach Resort & Spa.
The International Christian Centre (ICC) Mombasa, which is hosting Moen through Pastor Edward Munene, said local Christians are excited by the visit, adding that more high profile Christian preachers will be invited to come and worship and pray with the church at the Coast.
Pastor Moen said that his visit to Kenya is special because he brings a message of hope.
"We have been praying for Kenya and on this particular trip, that God will bless and protect all the people of Kenya. God is always making a way for his children," he said.
Asked to comment on Western travel advisories, Moen said he has visited countries in conflict and added that during a recent trip he made to Israel, many people had warned him against setting foot there.
"You can hear bad news if only you want to. Kenya is a lovely country. Once God's people come to pray, God will be there to save, heal and deliver," he said.
And commenting separately on the visit, Kenya Association of Hotelkeepers and Caterers (KAHC) Coast branch Executive Officer Sam Ikwaye said it is clear that influential people still have confidence in Kenya.
"Kenya is safe and open for business. We hope that other potential visitors will ignore the travel restrictions and visit us. There are many more independent travellers coming from source markets which have imposed travel advisories," Mr Ikwaye said.
The team of 10 in Moen's group will also tour Serena Kilaguni in Tsavo West National park. Leblanc said he is looking forward to an eventful mission.