Kenya: Gen Mwathethe tipped to succeed Karangi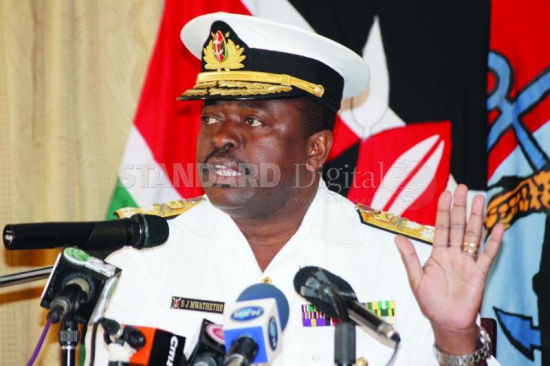 The military top command is in the throes of a shake-up following a meeting of senior commanders to discuss appointments, promotions and postings.
The Chief of the Kenya Defence Forces (CDF) Gen Julius Karangi is also expected to retire after 42 years of service.
Vice Chief of the Defence Forces Lt Gen Samson Mwathethe of the Kenya Navy is the frontrunner in the race to succeed Gen Karangi.
An informed source said the Commandant of the National Defence College, Lt Gen J N Waweru is also being considered as Lt Gen Mwathethe's deputy.
The sources said the decision to announce the changes would be made either today or next week.
Imminent exit
Karangi has been meeting senior staff at Department of Defence since Wednesday and has hinted at his imminent departure.
"You will be visiting me in a different office. It is good to have been here for this long," he is said to have told one of his officers on Wednesday.
Speculation is rife that Karangi could be named to a new position of National Security Advisor expected to be created.
In the US, where Kenya has heavily borrowed much of its military structure, the post National Security Advisor is senior and the holder attends Cabinet meetings.
"I have served the military for 42 years now and I am happy," said Karangi without elaborating.
Karangi has cited securing of military property as one of his achievements during his tenure.
"There were many speculators who even wanted to grab military land here in Nairobi and other parts of the country. But we protected it," he said in an earlier interview.
Karangi won public praise for the successful military operation against the Al-Shabaab militants in Somalia under Operation Linda Nchi and overseeing a smooth transfer of power from President Kibaki to Jubilee's Uhuru Kenyatta.
Karangi, 64, a former Vice-Chief of General Staff, became the first Chief of Kenya Defence Forces under the new constitutional dispensation.
The Kenya Defence Force used to be referred to as the Armed Forces in the old constitution while the Chief of Kenya Defence Forces was called the Chief of General Staff.
The Tonje Rules stipulate that the CDF position be held on a rotational basis by the Army, Air Force and Navy.
Karangi became the first four-star general to be decorated by the US military in 2014 for his role in the KDF offensive in Somalia.
Mwathethe joined the Kenya Navy in April 1978. He was commissioned in 1980 as a Seaman Officer after attending Britannia Royal Naval College, Dartmouth.
He has undertaken advanced courses on International Sub-Lieutenants (UK), International Principal Warfare (UK) and Missiles (Italy).
Decorated career
According to the DOD, he also attended the Defence Resource Management training in Monterey, USA, in 1998.
He is a former Kenya Navy Commander and has also served as the Kenya Navy Logistics Commander, Base Commander Mtongwe and Fleet Commander.
His other appointments included Chief of Systems and Procurement Department of Defence, Command of individual Kenya Navy Ships, SOI Operations at Navy Headquarters, 86 Squadron Commander, and SOI Co-ordination at the Department of Defence.
He also served with the United Nations as a military observer in Kuwait/Iraq and Yugoslavia in 1991/92.
His decorations include Distinguished Conduct Order and Moran of the Burning Spear, among others.