Land lease holders to enjoy first priority, CS Charity Ngilu assures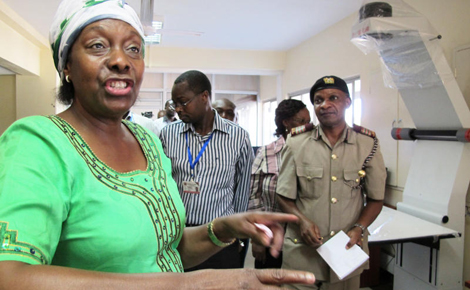 Cabinet Secretary for Lands and Housing Charity Ngilu and Mombasa County
Commissioner Nelson Marwa, after inspecting documents at the Lands office in
Mombasa on Thursday. [PHOTO: MAARUFU MOHAMED/STANDARD]
NAIROBI, KENYA: Current lease title holders will be given first priority when they apply for renewal of their leases, Lands Cabinet Secretary Charity Ngilu has said.
But to qualify for this renewal, Ngilu said the leaseholders must demonstrate that they utilised the land properly during the lease period.
"Expired leases on land will not be renewed if a ground report by land officers find that the land was not used properly or remained idle. Priority of the expired leases will still be given to those who occupy the land," Ngilu said Friday while reopening land registry offices in Mombasa, shut early this month for an audit.
The CS, who was accompanied by Land Principal Secretary Mariam El Maawy, warned that there were some people trying to frustrate Jubilee government's effort to sort out the mess in the Lands Ministry.
"We will not entertain people who don't want to see change in the ministry," said Ngilu.
She took issue with the opposition CORD's claim that she has been overstepping her mandate by taking on the job of the NLC arguing that it was within her mandate to resolve land issues. "Kenyans are the ones who will judge whether we are overstepping our mandate. As a ministry we are working to see that land matters are resolved and people get what they deserve. I am a public servant and I am expected to serve the public," said Ngilu.
She also claimed that during the audit in Coast's land registries, 38,000 files that had been declared missing at the land registry offices in Mombasa County were discovered besides the 17,952 'missing' correspondence files. Another 20,622 parcel files were also recovered during the audit period, she claimed. "We have successfully cleaned up the mess and recovered over 38,000 missing files that had disappeared. This is a new chapter that will see people not lose their land to unscrupulous dealers," said Ngilu.
The issue of expired leases, most of them issued at the start or end of First World War is a thorny matter in Coast which has also heightened tension between Ngilu and the National Land Commission (NLC).
Analysts indicate that the struggle between Ngilu and NLC is about who will control the millions of acres of public land and vast swathes of land that will fall vacant this year and next year when the leases expire.
Most leases were for 100 years and many prominent Kenyans including in the past and current regimes hold some of the leases at the Coast.
Local politics threaten to derail Machakos' development projects
For a county that had been the envy of many Kenyans due to an ambitious development plan spearheaded by Governor Alfred Mutua, political intrigues, disagreements and a corruption investigation have, somewhat, dampened high hopes on the transformation of Machakos County.