Henry Rotich aims to tackle poverty, jobs crisis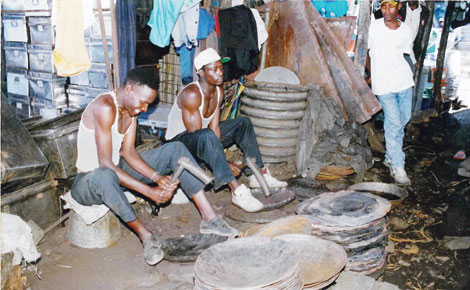 Jua Kali artisans at work in Gikomba area, Nairobi. World Bank statistics show that about 800,000 Kenyans join the labour market annually, with only 6.3 per cent succeeding in getting gainful employment. [PHOTO: STANDARD]
Kenya: The Treasury on Thursday laid out an ambitious plan that could bring a turnaround in the country's economy.
In his 2014/2015 Budget speech, Cabinet Secretary Henry Rotich focussed on addressing the country's key perennial challenges: rising poverty and unemployment levels.
In a move aimed at boosting the business environment, Mr Rotich allocated Sh116.7 billion to the ongoing and new roads to be constructed through annuity payment programme.
He further allocated Sh19.4 billion for the Standard Gauge Rail project, Sh3.5 billion for urban commuter rail system "to ensure completion of the line linking the Jomo Kenyatta International Airport to the Central Railway Station" and Sh43.6 billion to energy.
Analysts say the move to apportion Sh9.5 billion for the ongoing irrigation projects countrywide and transformation of agriculture from subsistence to commercial farming would significantly help in addressing the relatively high inequality levels in Kenya by attracting more youth, thus curbing the rising unemployment and poverty levels in the country.
World Bank statistics show that more than 39 per cent of Kenyans are poor.
To curb poverty, cushion the vulnerable and promote equity in the society, the Cabinet Secretary enhanced the social protection safety net in form of cash transfers.
"In addition, an allocation for the Equalisation Fund, Constituency Development Fund (CDF) and Affirmative Action for Social Development has been set aside," said Rotich. He allocated Sh27.97 billion for CDF, Sh7.2 billion for orphans and vulnerable children and Sh4.9 billion for elderly persons. Moreover, Sh3.4 billion was set aside for the Equalisation Fund, Sh2.03 billion for Affirmative Action for Social Development and Sh8.1 billion towards youth employment.
Rising poverty, inequality and unemployment are Kenya's key headache. Currently, unemployment stands at 40 per cent. Majority – about 70 per cent of the unemployed – are aged between 15 and 35. World Bank statistics show that about 800,000 Kenyans join the labour market annually, with only 6.3 per cent of them, approximately 50,000, getting gainful employment.
However, according to the Economic Survey report, 659,400 jobs were created in 2013. Last year, the document claims 742,000 people were absorbed in the job market. The informal sector, which the State has unswervingly claimed it cannot keep track of, ironically generated 625,000 jobs while 116,000 of them were in the formal sector.
Economists have cast a doubt on the figures, which they claim might not have been based on accurate statistics. Last year, Rotich in his budget speech stated that the Jubilee administration, which promised to generate one million jobs every year, would make the public procurement process play a leading role in driving growth, creating quality jobs and reducing poverty in the economy.
He said the public procurement would be made less cumbersome and more transparent and proposed amendments to the procurement law that ultimately saw a special reservation made for youth, women and persons with disability.
However, these vulnerable groups say little, if any, has been realised due to corruption, tribalism even as proxies take precedence in tenders for national and county governments.