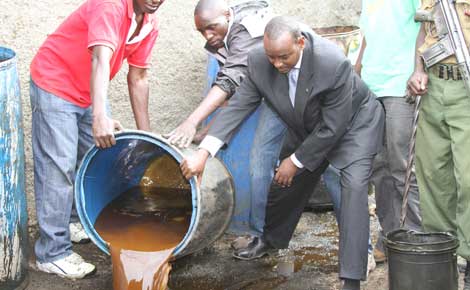 Nakuru County Commissioner Mohamed Birik (in suit) assisted by other police officers pour illicit brew impounded at Mwariki Estate in Nakuru Town. More than 5000litres were destroyed. (Photo: Kipsang Joseph)
By Felix Olick
Nairobi, Kenya: The Government has interdicted 52 public officers including two chief executive officers over the consumption of illicit brew that has so far claimed at least 81 lives.
This came even as Interior Cabinet Secretary Joseph ole Lenku announced the cancelation of all licences of manufacturers, distributors and sellers and ordered those who wish to continue in business to re-apply in 48 hours. Lenku added that merchants of the killer brew will be charged with murder.
The National Authority for Campaign against Alcohol and Drug Abuse (Nacada) CEO Dr William Okedi and his anti-counterfeit agency counterpart Johnson Adera were among the highflying casualties as the reality of the killer brew sank in.
Mr Lenku also announced the interdiction of five deputy commissioners in the affected counties as well as intelligence chiefs and OCPDs.
The tough talking minister also said the Kenya Bureau of Standards was under their radar, promising that more heads will roll.
"Kebs is under focus because some of the brands of the killer brew had its seal," announced the CS yesterday. "So far, however, our investigations indicate that the seals are fake," he said.
Speaking after a closed-door meeting with the Inspector General of Police David Kimaiyo, Health Cabinet Secretary James Macharia and Nacada Chairman John Mututho, Lenku said Embu County was the most affected, having recorded 36 deaths.
The minister announced stringent measures to deal with those culpable, saying the Government will bring charges of murder against manufacturers and sellers of the killer brew.
This comes even as the packaging and sale of alcoholic drinks in sachets, jerrycans and other unlabelled containers was banned.
"The Government has banned with immediate effect the hawking of alcohol, including traders selling outside their licensed jurisdiction," Lenku announced.
Authorised officers
He asked Nacada in collaboration with the public health and county security committees to review all licences by profiling all manufacturers and alcoholic drinks outlets.
"Molasses should be salted to make it unfit for manufacturing alcohol," he announced, adding that there will be colouring of industrial alcohol to ensure that it is eliminated as an ingredient in any alcoholic drink production.
Lenku also announced that he will gazette authorised officers in all counties for the purpose of enforcement of laws relating to alcohol and drugs, adding that the Government was reviewing relevant statutes to enhance penalties and discourage people from carrying out the illegal trade.