Kenya's street children struggle to get accepted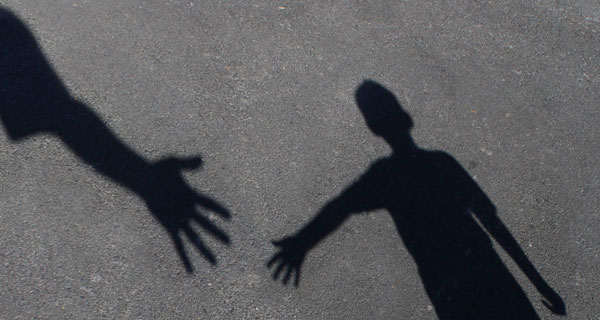 By Joan Barsulai
Kenya: I found Samuel Indika, eleven, and Morgan Joshua, 13, a few weeks ago at a corner near the Nairobi Railway Station. It was a cold and wet Sunday evening and the boys were huddled together, dressed in light clothing but with no shoes.
They were dead asleep on the cold hard pavement atop a small-flattened carton box that could barely fit them both. All they had for cover were light tattered manila sacks, which they later told me they had picked up from Muthurwa market.
Upon further inquiry, I established that the two boys had travelled to the capital from Ilungu, Kakamega County and Kisumu. They claim their parents died, a common script that street children generally offer, especially when confronted by strangers. Regardless, I felt a strong connection to these boys that I could not shake off.
Samuel and Morgan are children who represent the irritating eyesore that plagues every major town in the country — street children. A study by United Nations Children's Fund (Unicef) in 2007 estimated that between 250,000 and 300,000 children live and work on the streets across Kenya, with more than 60,000 of them in Nairobi alone. The number has possibly since increased, given the post-election violence of 2007 as well as the accelerated economic downturn in subsequent years.
Christopher Wesonga, a social worker who has been rescuing children from the streets for a decade, points out that many street children flee because of problems at home.
"Often, they leave home after the death of their parents (mostly mothers). Poverty is linked to family dysfunction in many cases, because the fathers of these children are poor, and the step-mothers do not want to split the little resources that are left between the step-child and her own brood. The step-child is often left out, forced to fend for himself."
In the recent past, there has been a rapid increase in the migration of street children to Nairobi. A children's officer based at the Children Services office points out that there has especially been a grand migration of street children from Eldoret to Nairobi following the shoot-to-kill order that was issued last September by the Inspector General of police, David Kimaiyo, when he ordered police to shoot to kill armed criminals. This order left street children running for their lives, fearing they could fall victim to trigger happy police officers.
During round-ups by Nairobi County Council askaris, street children are randomly arrested and treated as common criminals. A 1997 study by the Human Rights Watch, Police Abuse and Detention of Street Children in Kenya, found that children who are taken to the city courts are often mixed with adults, beaten and harassed by police in the station, and held for periods extending from several days to weeks with no review of the legality of their detention by judicial authorities.
Some children report being held in police lock-ups for up to two months without being charged. Once convicted at the city courts, the children are referred to one of four government rehabilitation centres in Nairobi — Bahati Boys', Kayole Girls', Shauri Moyo and Joseph Kang'ethe Reception Centre.
Allegations have often been made about the poor conditions at these facilities, and especially about guards and attendants mistreating the street children in their custody. An employee at the Nairobi County Council said the current system of rehabilitating street children is rapidly deteriorating, a fact that is not lost on the City Council employees.
"Some of the children we bring to the city court are too young, so we cannot place them with common criminals. The rehabilitation centres are in deplorable conditions — more often than not they will escape. We assign them cleaning duties for two hours at the council offices and then release them to the streets."
Samuel and Morgan describe their experience with the legal system. "One day, when we were bathing in the river, they caught up with us and arrested us while we were naked. We were beaten severely. They did not want to hear our side of the story. We went to the City court, and then we were taken to Joseph Kang'ethe," says Joshua.
He describes the brutal beatings and abuse that went on continuously. "Our beddings had lice. The guards are very harsh and beat us all the time, even when it was unwarranted. There was this mean drunk guard who always sat at a corner next to the door, guarding us. If he caught you looking at him, he would hit you with a club."
Human Rights Watch reports from its findings that conditions in these rehabilitation institutions fail to provide children with the education and rehabilitative training that they purport to, and children leave these institutions emotionally and physically scarred, stigmatised, and negatively influenced by their peers who may be serious criminal offenders.
Boiling water
Another street boy, Njoro, who was born into a street family and has been a street-child all his life, tells me: "I was caught by council askaris and taken to Joseph Kang'ethe. We were often beaten; I saw the workers pouring boiling water on children for minor infractions. I escaped in 2012; I'm never going back. I come out at night to beg for food, because the askaris are not there at night, and then I sleep during the day."
It has been four days since I first met the boys, and with each passing day, their demands for a clean bath and the desire to go back to school increases. It, therefore, becomes necessary to find them a home. I place calls to several children's homes based in Nairobi, but none are willing to take children over the age of ten, whom they consider too difficult to 'tame'. Finally I am referred to Dr Charles Muli, who runs the Mully Children's Family, which caters to over 2,000 children.
He agrees to take in the boys, but a stringent process ensues. The children are first interviewed by a social worker, and he collects information about their backgrounds, which will later be used to trace their relatives.
We then head over to Kamukunji Police Station, which has a children's department.
Motherly policewomen run the department at the station, which often handles several cases of abandoned and neglected children as well as street children who often surrender to the police when they are overwhelmed by the streets.
These children cannot be detained against their wish, therefore, when Samuel and Morgan begin to get anxious and demand to leave, not fully trusting that we have their best interests at heart, Boke, one of the police officers on call, flushes out teddy bears and a toy car from the toy collection available to distract them.
Clean clothes
There are metal double decker beds, and clean clothes for the boys to change into after their bath. Perhaps the most unexpected facility at the station is the fully equipped playground outside, consisting of swing sets, slides and seesaws designed to keep children occupied.
At the Children's Court the following day, cases are reviewed, and all children, including Samuel and Morgan, are committed to the Nairobi Children's Remand Home in Kabete, or Kadema, as the children like to call it. The home serves Nairobi and its environs, including Kajiado, Machakos and parts of Kiambu.
However, children often come here from all parts of the country. I make the trip to Kadema four days later to see the boys, and what greets me is a far cry from the run-down rehabilitation centres. The remand home has fostered a friendly environment for the children, factoring in the physical, emotional and mental abuse that many of those committed here have undergone. Samuel and Morgan tell me they have five meals a day.
"We want the children to learn to play again, to trust anew, and to just be children," says Charles Mbugua, the home manager who has run the home for seven years.
The 104 children at the home are in need of care and protection (including a few street children, and those who have had offences committed against them). There are also children here who have broken the law. The ratio of boys to girls is 34:70, and Mbugua tells me that most of the girls brought here are in need of care and protection. Mbugua says the home is a transitional place for many of these children, and they spend from a week to a few months here.
"We will first restore the child emotionally and psychologically, and then rehabilitate them. We then conduct reconciliation processes with their families and if going back home is not an option, we transfer them to government rescue centres which provide primary education and life skills."
He adds that the process is often complex because it takes time for children to open up, especially after a traumatic experience. Many of these children escape from home due to difficult circumstances and they will often lie about where they come from, taking the officials round in circles across the country in search of their families.
The greatest challenge the home faces is catering for the ten disabled children. Every so often, small autistic boys will be seen wandering around listlessly, or curiously peeking through the meshed windows.
Incapacitated
Many are mentally incapacitated and cannot communicate effectively, making it difficult to reunite them with their families. There are no training facilities or plans to cater for the children long term, and worse still, many of the children's homes contacted are unwilling to take them in given the challenges of caring for them over extended periods.
The remand officials are banking on the possibility that some of the disabled children may have wandered off, and their parents are possibly looking for them, hence the importance of having their pictures taken and posted. The home works with Kenya Missing and Unidentified Persons, an organisation that takes photographs of missing children which they use to trace their families.
During the photo session, a group of boys and girls walk in excited at the prospect of having their pictures taken. They smile and chuckle heartily during the photo session, possibly unaware of their apparent abandonment and challenges that lie ahead.
A seven-year-old boy tells me, "I came from school and found a big padlock on the door. I don't know where mum and dad are."
The following day, I receive a call from the Children's Department to finalise arrangements to have Morgan and Joshua taken to their new home at Mully Children's Family, Ndalani.
As they change from their remand uniforms into civilian clothes, they are filled with excitement, which soon turns to apprehension.
They tell me they are eager to return to school, and to play football again, but they also ponder whether the promises that we have made them, about a warm bed at night, a regular hot meal, and schooling, might be broken, like they have been many times before.
Today, many street children in Kenya do not get their happy ending like Morgan and Samuel's.